Australia agrees compensation deal for Canberra homes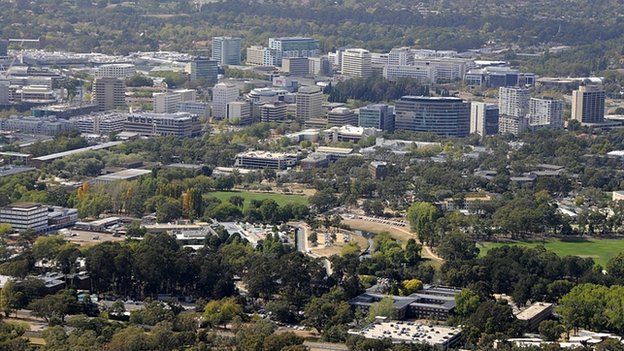 The Australian government has agreed to help compensate people in Canberra whose asbestos-ridden houses will be demolished with a A$1bn (£546m) loan.
The loan to the Australian Capital Territory comes after talks between ACT Chief Minister Katy Gallagher and Federal Employment Minister Eric Abetz.
More than 1,000 Canberra homes affected by loose-fill asbestos insulation will be bought and demolished.
Ms Gallagher said her government had reached "an in-principle agreement".
"The Commonwealth will offer to provide the ACT with a A$1bn concessional loan towards the cost of the programme," she said.
The chief minister also released a report by the Asbestos Response Taskforce on the long-term management of loose-fill asbestos insulation in Canberra homes that recommends the demolition of these homes as the only enduring solution.
"It is a clear recommendation from the asbestos taskforce report that the only way to solve the Mr Fluffy [insulation company] saga once and for all is to demolish affected houses," said Ms Gallagher.
"For Mr Fluffy homeowners, we believe this programme will offer a fair and flexible solution which will remove the risk of loose-fill asbestos not only to homeowners and tenants, but to the broader community," she said.
"This is a significant undertaking. We are talking about the purchase and demolition of 1,021 residential properties across many of Canberra's established suburbs."
The ACT government's Asbestos Response Taskforce would also be involved, the spokesman said.
Earlier this year, 1,000 ACT home owners received a letter warning that their homes were likely to contain remnant fibres from deadly loose-fill asbestos insulation pumped into their ceilings in the 1960s and 1970s by insulation company Mr Fluffy.
The federal government paid for a mass clean-up operation in the late 1980s and early 1990s, and the houses were declared safe to live in.
But further investigations this year revealed that some asbestos dust was still in about 1,000 houses.
More than 40 ACT home owners are living in temporary accommodation because of the dangerous levels of contamination, local media has reported.
Inhaling asbestos fibres can cause mesothelioma and lung cancer, which can take up to 40 years to develop. There is no known cure for the disease.