Australia states call for GST review before any tax hike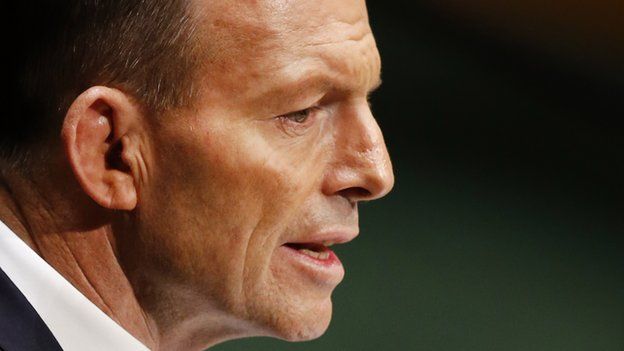 Australia's state governments want to see a change in how goods and services tax (GST) revenue is distributed before agreeing to an increase in the tax.
The Australian Council of Social Services (Acoss) has warned that any rise in GST will hit the poor hardest.
The comments follow PM Tony Abbott's suggestion that state governments should consider changes to the GST.
Mr Abbott told parliament on Monday he wanted to have a "mature debate" about revenue-raising measures available.
The Labor opposition has accused Mr Abbott of laying the groundwork for a GST increase. The tax has not increased from 10% since it was introduced in 2000.
The GST is a value-added tax on the sale of most goods and services. It is refunded to all parties in the chain of production except for the final consumer.
Before the last election in 2013, Mr Abbott promised not to raise the GST if he was elected.
Acoss Chief Executive Officer Cassandra Goldie told local media that when politicians suggest the heart of tax reform lies in increasing the GST, they risk people losing confidence in the tax system.
"What about superannuation and negative gearing [on property investments], what about land tax and payroll taxes?" Ms Goldie said.
Any changes to the tax would require the agreement of the state governments.
"I want to assure members opposite that we will certainly keep our commitments," Mr Abbott told parliament.
"But on the subject of the GST, as is well-known, any change to the GST is a matter for the states."
West Australian Premier Colin Barnett has threatened to vote down any changes to the tax, unless his state secures a greater share of the revenue.
"We've made it very clear for a long time [that] we will only agree to an increase in the rate or broadening of the application of the GST, if the main issue - and that is the sharing-up of the GST - is corrected," he told local media.
Related Internet Links
The BBC is not responsible for the content of external sites.