Australian teenager appears in new IS video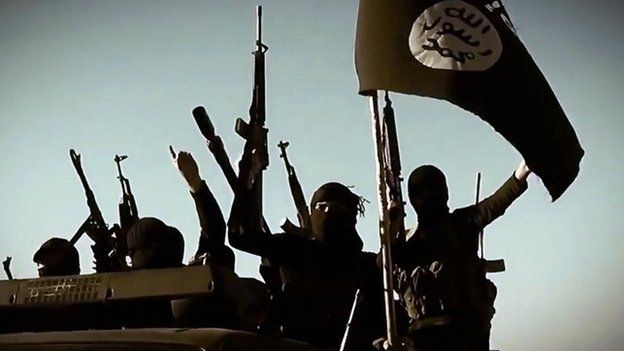 An Australian teenager who ran away from his Sydney home in June to join Islamic State (IS) militants has featured in a second propaganda video.
Abdullah Elmir, 17, is pictured with other jihadist fighters saying they will "strike the necks of the infidel and Arab countries".
IS says the video was shot on a bank of the Tigris River in Mosul, Iraq.
It comes as Australia's Senate prepares to debate new laws regarding extremists who fight in the Middle East.
The government bill would make travelling to an area of the world deemed by the government a terrorism hot spot an offence.
An Australian who travels to such a place without an acceptable reason would be guilty of a crime punishable by 10 years in prison.
IS has overrun swathes of Syria and Iraq and has acquired a reputation for brutality in the territory it controls.
At least 70 Australians are believed to be fighting with jihadist groups in Iraq and Syria, according to Foreign Minister Julie Bishop.
Ms Bishop has cancelled 73 Australian passports to prevent extremists from either flying to the Middle East or returning.
In the first video posted online last week, Abdullah Elmir - who also calls himself Abu Khaled - addressed the camera in English, saying: "To the leaders, to Obama, to Tony Abbott I say this: these weapons that we have, these soldiers, we will not stop fighting, we will not put down our weapons until we reach your lands."
Australia is a major contributor to the US-led coalition against the IS group and has committed a total of 600 military personnel to the fight.
An agreement with Iraq allows 200 special forces personnel to train local troops to fight against IS militants.