Senator Nova Peris denies seeking public funds for affair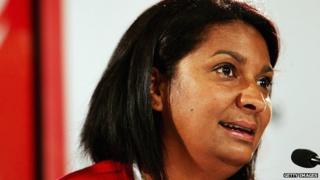 Northern Territory Labor senator and Olympic medallist Nova Peris has denied media claims she improperly sought public money for a personal affair.
News Ltd newspapers has published explicit emails it says are between Senator Peris and Ato Boldon, Olympic medallist from Trinidad and Tobago.
Senator Peris was an ambassador for Athletics Australia.
The report says she sought funds from the organisation to help pay for Mr Boldon's trip to Australia.
In a statement released on Twitter, Mr Boldon said the article written by the Northern Territory News "includes gross fabrications".
"My trip to Australia almost five years ago was for the purpose of holding several youth clinics, and it was a successful undertaking. The trip was co-organised by one of my now-deceased colleagues at Athletics Australia," he said.
"I will be following the senator's lead, including, but not limited to, pursuing all legal action possible for this malicious misrepresentation of the details surrounding my presence in Australia in 2010."
The emails were allegedly written in February 2010 before Mr Boldon's trip. Senator Peris and her husband divorced that year after an eight-year marriage.
Senator Peris is an indigenous Australian athlete and politician who, among other things, was in the Australian Women's Hockey team at the 1996 Summer Olympics, becoming the first Indigenous Australian to win an Olympic gold medal.
Ms Peris responded to questions posed by the NT News on Tuesday, saying she "categorically rejects any wrongdoing".
Athletics Australia confirmed they did pay for Mr Boldon's flight to Melbourne from Los Angeles and covered his accommodations and some "incidentals" while in Australia.