Melbourne Cup: Stats dismiss fear of foreign invasion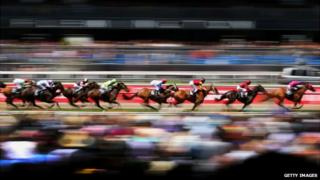 This year's Melbourne Cup line-up includes plenty of overseas horses, prompting local punters and trainers to rally against "the great international invasion". But a close look at Cup statistics tells a different story.
Despite fears that "foreign raiders" are dominating the A$6.2m (£3.4m) Melbourne Cup, only five overseas horses among the 112 that have made the journey to Australia in the past 20 years have won the race that stops the nation.
The breakthrough came in 1993 when Irish trainer Dermot Weld flew in with Irish stayer Vintage Crop and flew out with the trophy and the prize money.
Weld's success stamped the Melbourne Cup as an international race and proved to other foreign owners and trainers that the tyranny of distance did not put Australia's richest horse race out of reach.
Since 1993, the 3,200-metre (two mile) Melbourne Cup has attracted up to 10 fly-in-fly-out (FIFO) overseas-trained horses in the field of 24 each year.
Weld's Vintage Crop returned the following year in 1994 but the favourite failed to score a second victory, finishing seventh. Neither did the overseas favourite Double Trigger win in 1995 nor the foreign favourite in 1996, Oscar Schindler.
It was another nine years after Vintage Crop's 1993 victory before a "foreign raider" - as local trainers and media label them - again succeeded in carrying off the Cup. In 2002, Weld triumphed a second time, with Irish horse Media Puzzle.
There was a four-year lull before Japanese connections entered the winner's circle at Melbourne's Flemington racecourse, with Delta Blues winning in 2006.
Another four years followed and the French-trained and ridden American was first-past-the-post in 2010. The French doubled up a year later in 2011 when Dunaden won the 151st Melbourne Cup.
Not an easy ride
The Melbourne Cup delivers international prestige and a financial wind fall. But getting to the starter's gate at Flemington requires enormous expense, planning and luck.
Overseas horses have to serve a two-week quarantine period at home and another fortnight in quarantine at a centre outside Melbourne to ensure they are not carrying any disease.
It can cost as much as A$100,000 (£55,000) to transport a horse from overseas to Melbourne. There's also trainer, jockey and stabling fees, and race entry.
The cash-rich Sheikh Mohammed bin Rashid al-Maktoum has invested millions of dollars to bring 19 runners to the Melbourne Cup since 1998 but none have won. He has returned this year with his horse Cavalryman.
Despite the odds stacked against them, famed local trainer Peter Moody, who has two Cup contenders this year with Brambles and Lidari, fears the race will be dominated by internationals in coming years.
Fellow trainers have even called for a cap on the number of internationals allowed to start.
"I am not happy about seeing the prize money go out of the country but it is what we have to learn to deal with," Moody says.
"We have to learn from it and it is probably going to take us the best part of a decade to bounce back and be able to compete with these high-class European stayers."
But Moody knows the tyranny of distance doesn't always triumph. Two years ago, he took the legendary and unbeaten mare Black Caviar to England to win the Diamond Jubilee Stakes at Ascot.
Moody's fears are no doubt fed by two internationals winning the two lead-up Cup races, which form part of Australia's spring racing carnival.
The Irish-trained Adelaide won the A$3m (£1.7m) Cox Plate in Melbourne on 25 October. The race had never been won by a foreign-trained starter before. The Japanese-trained stayer Admire Rakti, which won the Caulfield Cup a week earlier, is a favourite to win the Melbourne Cup.
Australian punters, trainers and owners love foreigners to fly in to prove the Melbourne Cup is an international event. But they want them to fly out empty handed.
Moody, who is yet to add a Melbourne Cup to his trophy cupboard, reckons the locals have to muscle up and take the fight to the internationals rather than try to limit the FIFOs.
"It's an open handicap and that means everyone is involved. Everyone is welcome to have a crack."