Victoria Premier signals start of election campaign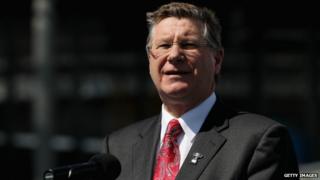 Premier of Victoria Denis Napthine will start the state's election campaign on Monday by delivering the writs to the state's governor.
An official caretaker period will begin at 6pm AEDT on Tuesday for the 29 November election.
Opinion polls suggest Mr Napthine's conservative Coalition government could lose to the Labor opposition.
Mr Napthine's numbers have been hit by dissatisfaction with the conservative federal government led by Tony Abbott.
Last week, Mr Napthine said he had a "robust" conversation with Prime Minister Abbott about the impact of the government's recent petrol price increase on families and businesses.
Revenue raised by the increase will help pay for Victoria's controversial East West road project.
A Fairfax Ipsos poll shows the Victorian Coalition lagging behind Labor by 44% to 56% in two-party-preferred terms.
Victoria's government is also faring poorly in health, education and jobs creation, according to polls.
Voters are looking outside the two major parties, with the Greens on a primary vote of 17%, compared with 11% at the last election.
The Palmer United Party, which will not field candidates in the lower house, had 2% while other minor parties and independents were on 7%.
In a press conference on Monday morning, Mr Napthine said his government would be also be building a Melbourne rail link and an airport rail link.