Australian retailers brace for foreign competition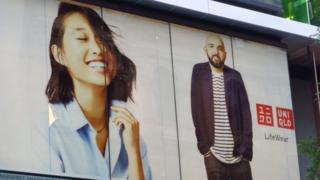 As another overseas retailer, this time the French cosmetic giant Sephora, prepares to open its first store in Sydney, Australian retailers are being warned to expect more international competition.
Fashionistas have been waxing lyrical about Swedish super chain H&M's latest collaboration, this time with New York designer Alexander Wang.
Retail analysts will be interested, too, because the collection of gym gear and form-fitting dresses in silky synthetics debuted in Australia ahead of anywhere else on 6 November.
It is the kind of clever marketing that Australian retail chains should brace for, if they have not already, say business analysts.
The foreign invasion has so far mostly targeted the clothing sector. But cosmetics, books and stationery are under attack, too, said market researcher Barry Urquhart.
"Overseas firms have seen the profits to be made in Australia when the economy is lacklustre in their traditional markets," said Mr Urquhart.
"Unlike established Australian chains, [foreign chains] don't have huge overheads and can move very quickly to get product on their shelves."
"Many shoppers discovered them on European trips, so they have huge appeal for flagship malls because they are an incentive to travel to a shopping centre," he says.
"Therefore, they can negotiate good rent deals, down to 13% of their turnover. Existing fashion retailers pay up to 28%."
Hidden costs
H&M's entry into Australia followed closely on the heels of fashion chains Top Shop and Zara, opening stores in Melbourne and Sydney this year. Japanese fashion chain Uniqlo has also opened here.
"Older department stores are trying to find their relevance," said Mr Urquhart. "In the 1960s, the 23 department chains [in Australia] were a destination."
Now, he said, there are only two, serving as "the last shopping resort if we can't find something elsewhere".
But international entrants may experience the same issues that beset local players, warns Australian Retailers Association spokesman Russell Zimmerman.
"International retailers coming to Australia may be unaware of the high cost of doing business," said Mr Zimmerman.
"In the UK or US, stores don't pay double time to their workers on Sundays [as happens here]. It hampers Australian retailers. Energy bills and insurance are also higher, which is reflected in prices."
Mr Zimmerman said the sector welcomes retailers such as H&M because they encourage shoppers to try out new malls, and while they are "eating into other people's pie", they increase the size of the market that everyone can share.
'Good market'
It is the opening of cosmetic stores that really concerns local players, said Mr Urquhart.
"Traditional department stores make 10% of their income from cosmetics and Sephora will compete head on," he said.
UK book and stationery chain WHSmith is also opening stores.
"Australians read a lot, and they like hardback books. At the moment, online [book] sales comprise 6% of the Australian market compared to 10% in the UK. Australia is a good new market for WHSmith," said Mr Urquhart.
Shipping stationery to Australia makes sense. "It's light, with a large mark up. Also one in seven people run their own company here, buying a lot of stationery direct rather than wholesale, which is a lucrative proposition for WHSmith."
The chain is now opening stores at Australian airports. WHSmith Australia chief executive Paul Yardley said the company will expand further.
"We will operate nine units at Melbourne Airport from 2015, which is our largest business in the Asia-Pacific region," he said.
Tough time
Mr Zimmerman says new retailers are changing the way Australian chains operate. "An Australian tradition is [for] retailers [to] have a new window display four times a year, with the Christmas displays getting large queues.
"However European chains like Zara change their displays every month, and offer current fashions from Europe. Consumers are no longer content to sit back and be told what to buy once a season," he explains.
"Existing chains also used to have multiple stores in the same area. However, they were in competition with each other, which just drove up the cost of leases. International chains have only one store and people travel to it. It's much cheaper."
Australian retailers were already having a tough time. SES Fashions, which had a chain of 44 stores, entered administration in April, blaming international competitors. Online retailer Jasu and lingerie and jewellery retailer UnderCoverWear have also both collapsed.
All three lost sales as consumer confidence, as measured by the Westpac-Melbourne Institute consumer sentiment index, took a dip.
This may be why the German discount retail and grocery chain Aldi has been so successful in Australia, says Mr Urquhart.
"Established Australian supermarkets typically have a 23% price mark-up. European supermarkets get 16%, and Aldi are even lower."