Gough Whitlam: Sydney memorial for former Australia PM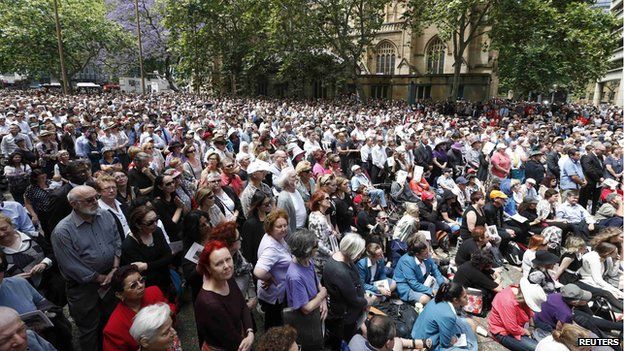 Australia has held a state memorial service in Sydney for former Prime Minister Gough Whitlam, who died on 21 October at the age of 98.
Mr Whitlam is credited with changing the lives of a generation through far-reaching reforms in the 1970s, coming after decades of conservative rule.
But his Labor government was dismissed after just three years.
The service was one of the biggest for an Australian PM since the one in 1978 for conservative giant Robert Menzies.
Thousands of people applied to attend, with more than 4,000 applying in the first two days of registration. However, only 2,000 people could be accommodated in the Town Hall in Sydney on Tuesday.
Outside the building, a viewing area was set up with a large screen showing the service.
There were also public screens in Sydney's Fairfield, in the political seat Mr Whitlam represented, and in Federation Square in Melbourne.
As politicians and dignitaries entered the Town Hall, a huge cheer went up outside the building at the arrival of former Labor Prime Minister Julia Gillard.
The large crowd, likely to be mostly Labor, booed loudly when Prime Minister Tony Abbott appeared, reports the BBC News website's Australia editor, Wendy Frew.
At the scene - Wendy Frew, BBC Australia editor
Sydney resident Alison Mackay said she had attended the service to honour Mr Whitlam's political legacy.
"The first time I voted, I voted for him," Ms Mackay said. She was a young woman when Mr Whitlam came to power, recently married into what she says was "a deeply conservative rural community".
"Gough Whitlam gave us the promise of change... to make Australia a fair and just community."
Years later, she said, she was able to take advantage of "no-fault" divorce laws, thanks to Whitlam government reforms to family law. She and her children also benefitted from free university education and affordable health care - both programmes advanced under Mr Whitlam.
Another visitor, Keith Crittenden, had lived in Mr Whitlam's seat of Werriwa for many years. He had travelled to the ceremony from Bowral, outside of Sydney.
Mr Crittenden said that after Mr Whitlam won government in 1972, "things just took off" with lots of services introduced to the until-then neglected western suburbs of Sydney.
The 81-year-old listed the recognition of China and the provision of free higher education as among Mr Whitlam's most important achievements.
"I felt his death was the end of an era for a man who had done wonderful things [for Australia]," he said.
Mr Whitlam led Labor to its historic victory in December 1972 on the back of the famous "It's Time" campaign to move on from a post-war period of social conservatism.
His dismissal was prompted by a refusal by parliament's upper house, where Labor did not hold a majority, to pass a budget bill.
To end the crisis, Governor-General Sir John Kerr dismissed Mr Whitlam in 1975 and installed opposition leader Malcolm Fraser as the caretaker prime minister.
After leaving politics, Mr Whitlam served as a Unesco ambassador, academic and after-dinner speaker and regularly appeared at Labor Party functions.
He had four children with his wife, Margaret, during a marriage that lasted 70 years until her death in 2012 at the age of 92.