Australia Ebola fight: 'Hundreds' apply to Aspen clinic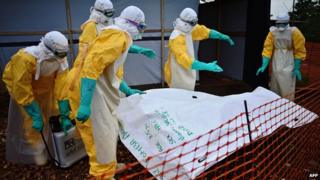 Hundreds of Australian medical personnel have applied to work at an Ebola treatment centre in Sierra Leone, according to the firm contracted by the government to run the facility.
Glenn Keys, managing director of Aspen Medical, said his company had received some 350 applications in under a day.
Prime Minister Tony Abbott announced plans to fund the centre on Wednesday.
His government was criticised for its response to an Ebola epidemic that has killed thousands in West Africa.
Australia has stopped offering entry visas for visitors from Ebola-affected countries, and has also been refusing to send health workers to fight the epidemic.
The worst ever outbreak of the disease - concentrated on Liberia, Sierra Leone and Guinea - has claimed some 5,000 lives, prompting a global effort to contain the epidemic.
Addressing a news conference on Thursday, Mr Keys would not specify exactly how many Australians would make up the 200 staff needed for the 100-bed centre in Sierra Leone.
"But I think we will see a large number of Australians over the period of deployment," he said, pointing out that teams would be rotated in and out of the centre.
Australia has committed funds of A$20m (£11m; $17m) to the centre, which is being built by the UK.
Mr Abbott said he had accepted an offer from the UK to treat any Australians who contracted Ebola while working in affected countries.
However, he ruled out sending government health workers, saying most workers would be hired locally with international staff likely to include some Australians.
The government had repeatedly said that it would not send health workers to West Africa until it had a guarantee that infected Australians would receive treatment from other countries.
The federal secretary of the Australian Nursing and Midwifery Federation, Lee Thomas, welcomed the government's announcement about the Aspen centre.
"By and large it is relief," she told ABC TV. "Can we do more? Probably we can but this is a very good start."
However, she said she was disappointed that the government had not accepted the EU's offer to treat Australian health workers, as claimed by the local media.
"We have had nurses ready to go for several weeks," she said, explaining that Australia's best defence against Ebola was to treat it "on the ground in Africa".
Aspen Medical has been running a health clinic in Liberia for several months.
Mr Abbott said he expected Aspen to have some staff in Sierra Leone within days, and for the centre to be operational by the end of November.