Australia courts controversy with mixed message on Ebola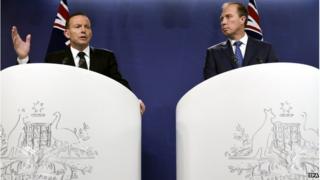 People around the world, and indeed at home, could be forgiven for being a little confused about Australia's response to the Ebola crisis.
The government has been sending out somewhat mixed signals over what help it can offer.
First, Prime Minister Tony Abbott refused to send any official medical or military personnel to West Africa, a decision for which he was widely criticised.
It came at the same time as President Barack Obama was saying the US should be encouraging health workers to volunteer to go to the frontline.
Mr Abbott has now bowed to pressure and announced Australia will be contributing A$20m (£11m; $17m) to help fund a British Ebola response clinic being set up in Sierra Leone.
However, the prime minister has been vague about who will be staffing it.
The Australian side of the operation has been contracted out to the private health provider Aspen Medical.
Mr Abbott suggested most of the staff would be recruited locally, even though health officials in Sierra Leone have said the principal thing they are lacking is qualified local doctors.
Meanwhile, the managing director of Aspen Medical, Glenn Keys, has said around 350 Australians have registered with the company to go and help.
Tardy response?
What is clear is that the prime minister is sticking by his line that no government medical teams or military personnel will be dispatched.
Mr Abbott said the decision to contract in Aspen had been reached after Britain agreed to treat any Australians who become infected while in West Africa, something the Australian leader had said was his principal concern.
It's now emerged though, that the European Union had already made a similar offer to treat Australian staff that Mr Abbott had rejected.
The end result is Australia's response had looked tardy.
Add to that the strong criticism Australia has faced after it became the first developed country to ban the issuing of visas to anyone from Sierra Leone, Guinea and Liberia.
The Sierra Leonean government called the move "discriminatory" and "counter-productive" suggesting it created a climate of panic.
Anyone who's visited Australia will know they take a tough line on bio-security. There are strict rules about bringing in food products due to fears of bringing in disease.
But given that only a handful of people have been tested for suspected Ebola in Australia and all have tested negative, the government here risks being accused of showing a lack of compassion in the eyes of many around the world.