Australia security: Your questions to Jon Donnison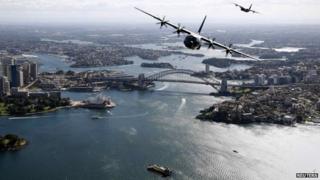 Over the last few months Australia has been increasing its efforts to fight terrorism.
Prime Minister Tony Abbott raised the country's terrorism threat level from medium to high amid growing concern over the domestic impact of radical Islamist groups in Iraq and Syria.
In September, police in Sydney and Brisbane carried out what they described as the "biggest counter-terrorism operation" in the country's history. Security was also upgraded at the Australian parliament following "chatter" suggesting extremists could target it for attack.
The BBC's Australia correspondent Jon Donnison answered some of your questions on security down under in a live Twitter Q&A.
This is an edited version of the session:
Lucille Law on Facebook asks: Should Australia be more worried about Islamic State threats from abroad or at home?
Jon says: Hi. Given distance, probably more worried about threat at home. That said, out of Islamic population of 700,000, only a tiny handful of IS supporters here.
@aus_istan: Is local media doing a good job in differentiating between terrorist ideology and peaceful Muslims?
Jon replies: In a word: no. Read tabloids and there is a fair bit of whipping up fear. As a result, sadly quite a number of Islamophobic attacks.
Neil Young via Facebook asks: Should Australia be expecting more anti-terror raids?
Jon says: Hi Neil. I think it's likely. The government says there are around 100 IS supporters in Australia. But worth noting after last big raids (800+ police) only one was charged.
Gene Yue on Facebook asks: Is the "burqa ban" a paranoid one? How many women in Australia have you seen really wearing burqas anyway?
Jon says: Hi Gene. I've never seen a woman wearing a burqa in Oz. Tony Abbott said he hadn't either. Media and government confusing burqas with niqab. Basically I think lazy journalists like the alliteration of "burqa ban." Niqab ban doesn't sound so catchy.
Khakurel Amrita on Facebook asks: Are you a cat or a dog person?
Jon replies: Hi Khakurel. I'm definitely a hound man but the missus tells me we have to get our baby before a dog! Baby is due in March so pencilling in a pooch for 2015.
Liza Lee on Facebook asks: What do the majority of Australians think of the KKK nutters at parliament?
Jon says: Hi Liza. Probably that they were one tinny short of a full six pack! They tried and failed to make a pretty incoherent point.
@James_G_Fowler: Is climate change not a threat to security in Australia?
Jon replies: G'day. Long term climate change poses a much greater threat to Australians' livelihoods than Islamic State militants. But that's just my view ;-)
A Oei emails: Do you think Australia is still a 'lucky country' with all the terror raids going on?
Jon says: "Lucky Country" is greatly misused. Was said with sarcasm/irony. So maybe the author Donald Horne may have still thought Australia was "lucky".
D Songur emails: What will proposed special powers granted to Asio mean for journalists, news agencies and whistleblowers?
Jon replies: I don't think we know the answer to that but there is undoubtedly a lot of concern from journalists here about new laws and protecting sources.
@jmitter34: What do you think of the new Star Wars trailer?
Jon says: Being a bit codge, original Star Wars was much more my scene. First films I saw in the cinema.
Hang Kwon Li on Facebook asks: What's been your most memorable coverage experience during your time in Australia?
Jon says: Travelling to the Philippines to cover Typhoon Haiyan. A truly terrible story but Filipinos were some of the kindest people I've met.
Smain R Avidan on Facebook: I liked your World Service report. Was it hard to get interviews at mosques?
Jon replies: Hi Smain. No it wasn't hard. Most were happy to talk and were friendly. Many were originally from Tripoli in Lebanon, a place I have visited.
@grimlockchen: What is the Australian government doing about terrorists like those who want to go to Syria but can't because passports were cancelled?
Jon says: Watching them pretty closely I imagine. But those laws may end up being challenged in courts here, I suspect.
@larry_friese: What would major national security concerns be if Australia detached itself from the US and UK and went neutral?
Jon replies: Hi Larry, interesting question given that Australia has been the US's most loyal ally over wars of last century. Think it would be of more concern to the US and UK.
Juwel Rai on Facebook asks: Are the beaches better in Gaza or Sydney?
Jon says: Now that's a tough one. Sorry Bondi but my heart is with Gaza beaches. So much potential there.
For more tweets from Jon Donnison you can follow his Twitter account.
Produced by Heather Chen