My day: Park ranger Grace Wunungmurra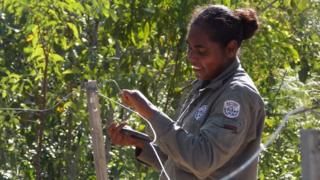 Twenty-year-old Grace Wunungmurra works as a ranger in North East Arnhem Land, a remote corner of Australia's Northern Territory and home of the indigenous Yolngu people.
I was born in and grew up in Cairns. We used to come back here for school holidays but when I was 17 mum and dad decided to move back here to live because they were getting sick of living in the city.
I went to school at a small community called Gangan. It was different to the city; it was way better being out bush. There was fishing, hunting and swimming.
Friends would show me what to do, where to go, how to get fruit. I learnt all the bush stuff. I could feel that it was my country here. There are so many sacred things and everything is special to us.
I finished Year 11 [at high school] but didn't want to go back to school for Year 12 because I wanted to work.
I went on a training programme and they asked me if I wanted to try being a ranger with Dhimurru Aboriginal Corporation for three months. I thought I'd give it a go.
'Every day is different'
It was good being out on country, especially after coming back from the big city. I wanted to learn more and loved being outdoors.
I liked learning more about my culture and being around all the good people who work at Dhimurru, a mix of Yolngu and Balanda (non-Aboriginal).
I usually wake up around 07:00 and get to work around 08:00. We have a meeting where we plan what we are going to do for the day.
Every day is different. We might go out on patrol, where we drive out and check all the camping areas to see if people have the right permits to be there.
Sometimes we cut the grass or put up fences at those places.
We also do nursery work: go out and collect the seeds of native plants then take them back to our nursery and plant them. We take the plants back to the recreation areas and plant them where there is bad erosion.
We do a lot of marine debris work too. Rubbish comes from overseas and washes up on the beaches. We go out and clean it all up, bring it back, weigh it, sort it and see what we picked up.
'Crocodile problem"
There are not as many miyalk (women) rangers as men rangers but to me it is all the same because we all work together.
I guess they do more with guns. If the men go out on patrol they will take a gun in case they see a water buffalo. Then they kill it and we keep it as bait for crocodiles.
We have a lot of crocs around here so if we get a call about a problem crocodile we sometimes take out the big croc cage and set it up, put the bait in it and wait and see.
We sometimes teach the young kids what we do and how important it is to go to school and learn the Balanda way of things.
We talk to them in Yolngu Matha (language) and English, and take them out on country and show them our work. They like that.
The worst part of the job is definitely cleaning the toilets. We have these composting toilets at camping areas and every couple of months we have to clean them out. It stinks, the worst smell ever!
The best thing is going out together and working together. And working as a ranger has given me the confidence to talk. I was a quiet person. Now I'm starting to get confident.
I look up to our managing director, Djami Marika, and the way he talks. He is a very strong person and he is very smart. He is a role model for us; he looks after our culture and our country.
'Feel connected'
At the weekends I go fishing - I use a hand line, but you can use a spear if there are no boys around to do it for you!
Or I might go to a barbeque and watch the footy, or go to the local nightclub with my friends. Sometimes I go back to Gangan to visit family and go hunting, swimming and fishing.
I'd like to be a ranger for a little bit longer and then become a pilot. I like flying and I don't think there are many Yolngu miyalk pilots, so maybe I can be the first.
But I don't think I'll leave Arnhem Land. I love it here, and all the good people. There's too much stuff going on in the big city. It's nice and quiet here, and I can feel that I'm connected.
Grace Wunungmurra was speaking to the BBC's Juliet Perry in Arnhem Land, Northern Territory, Australia.