Australia set for major cattle export deal with China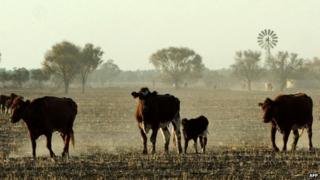 Australia is finalising a deal with China for the annual export of one million head of cattle, worth A$1bn (£541m; $856m), officials say.
The deal is expected to open up new markets for Australian farmers while meeting China's hunger for red meat.
"It's a great breakthrough," Australian cabinet minister Christopher Pyne told Channel Nine TV.
China is Australia's largest trading partner.
The two countries are also seeking to finalise a free trade agreement.
They have been discussing exporting live animals for many years but the official talks leading towards this deal only began in February.
The cattle deal is not thought to be linked to the proposed free agreement, according to the Australian Broadcasting Corporation (ABC).
While the deal has yet to be formally announced, Australian officials say they expect it to be finalised soon.
According to Reuters news agency, the deal was held up because of concerns over Bluetongue disease, a virus present in Australian cattle that could pose a threat to China's sheep flocks.