Rolling Stones cancel Melbourne gig over Jagger illness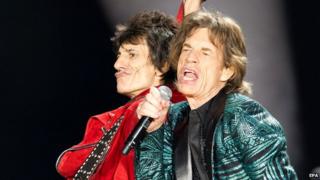 The Rolling Stones have cancelled their Melbourne concert this Saturday because singer Mick Jagger has developed a throat infection.
Jagger, 71, is under strict doctor's orders to rest his vocal cords, according to an official statement.
The legendary rock band is due to play in Sydney on 12 November.
The Stones' Australian tour was postponed earlier this year after the death in New York of Jagger's girlfriend, L'Wren Scott.
A spokesman for Frontier Touring, which has organised the tour, said Jagger needed to recuperate so that he could complete the rest of the tour.
"This means the scheduled show at Hanging Rock near Melbourne is unfortunately cancelled," the spokesman said.
All fans who purchased tickets through Ticketmaster will receive a refund for the Hanging Rock show, according to the organisers.
The Australian visit is part of the Stones' international 14 on Fire tour.