Apec summit: Tony Abbott to meet Obama and Putin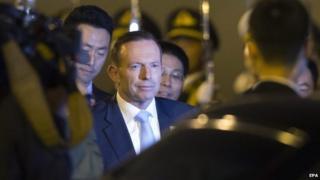 Tony Abbott will hold talks with US President Barack Obama later on Monday as regional leaders gather in Beijing.
Prime Minister Abbott is expected to discuss international security issues with Mr Obama at the Asia-Pacific Economic Co-operation (Apec) summit.
He also vowed to hold "robust" talks with Russian President Vladimir Putin about the downing of flight MH17 in Ukraine, in which 38 Australians died.
Mr Abbott will host world leaders this weekend at the G20 summit in Brisbane.
His discussions with President Obama are expected to focus on the fight against Islamic State (IS) militants in Iraq and Syria.
Australian fighter jets have been conducting air strikes against IS targets in Iraq alongside US planes since the beginning of October.
Mr Abbott has also sent about 600 Australian troops to region as part of the operation, including 200 special forces soldiers who are waiting for approval from Iraq's government to enter the country.
Last week, Mr Obama doubled the number of American troops being sent to Iraq by authorising another 1,500 soldiers to be deployed.
Both leaders are expected to hold a joint news conference after their talks.
China trade deal
The schedule also includes a meeting between Mr Abbott and Chinese Premier Li Keqiang, with a landmark free trade agreement between the two countries being discussed.
Analysts say the deal could be worth billions of dollars to Australia in new exports, with import tariffs on Australian goods and services set to be removed or substantially lowered.
Australia's government hope negotiations can be finalised this week so a deal could be signed by Chinese President Xi Jinping when he visits Brisbane this weekend for the G20 summit.
Mr Abbott is also hoping to meet with President Putin on the sidelines of the Apec summit.
Australia's PM is eager to voice his concerns about the investigation into the shooting down of a Malaysian passenger plane in July, killing all 298 on board.
Mr Abbott has previously said the 38 Australians on the plane were "murdered by Russian-backed rebels using Russian-supplied equipment".
Mr Putin has denied Russia had any involvement in the incident.
Although any talks between Mr Abbott and Russia's leader are expected to be behind closed doors, the pair will meet again at the G20 summit, which starts on Saturday.