Wayne Goss, former premier of Queensland, dies at 63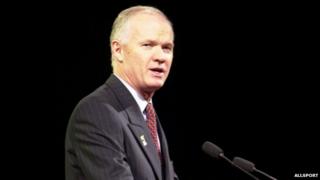 Wayne Goss, the former premier of Queensland, has died at the age of 63.
Mr Goss, who was premier from 1989 to 1996, had suffered from ill health in recent years including brain tumours.
He became Queensland's first Labor premier in more than 30 years in December 1989 when he ended Sir Joh Bjelke-Petersen's hold on power.
He introduced a host of reforms, including decriminalising homosexuality and appointing Queensland's first female minister in cabinet.
In a statement, his wife and two children said: "As a family we mourn the man we love; as Queenslanders we join with so many others in gratitude for everything Wayne did for our community and our state."
"In Wayne's own words from 1996, 'Thank you, Queensland. You've been good to me. I hope I've left you a better place'," the statement read.
A spokesman for the family confirmed Mr Goss had died at home in Brisbane in the early hours of Monday morning from the recurrence of a brain tumour.
'A tremendous legacy'
David Hamill, who served as a cabinet minister under Mr Goss, said his former boss was "a great leader, a great Queenslander and a great friend".
"Wayne's legacy is a tremendous one. He re-shaped the face of Queensland and bought integrity back to government in this state," Mr Hamill told the Brisbane Times.
Federal Queensland MP Jim Chalmers said: "We have lost an inspiring and transformational leader who made us proud to be from Queensland and proud to be Labor."
"When Wayne Goss stormed to power in 1989 after 32 years of National Party rule he fixed a broken and corrupt state and set us on a more modern and ultimately successful course,'' Mr Chalmers told The Australian.
"We farewell a great man, we are so grateful for his life, and we will celebrate his contribution," he added.