Australia's free trade deal with China 'could be a disaster'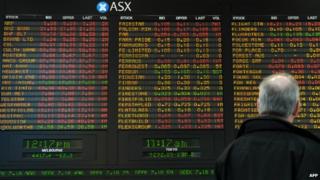 A senior member of Australia's Liberal Party says a looming free trade deal with China could be a disaster.
Senator Bill Heffernan said China's refusal to float its currency could give it a big advantage over Australia.
The two countries are expected to announce a free trade agreement (FTA) by next Monday when Chinese President Xi Jinping visits Australia.
It would be the third FTA signed by Australia this year, following similar agreements with South Korea and Japan.
Senator Heffernan, a Liberal backbencher, said the Australian government should have learnt from its past experience that not all trade deals benefitted both signatories.
"I think there are certain questions that have to be asked. How do you really have a trade agreement with a country that won't put their currency on the market?" he told ABC TV.
"How do you manage good times, bad times, high interest rates, low interest rates?" he added.
He said Australia should learn from its trade agreement with the US, saying: "We did away with 5% and 15% tariffs and within a few years we found ourselves at a huge trade disadvantage because we had a 45% currency tariff against us because we went to parity with the US [dollar] and above parity at one stage."
Australian Agriculture Minister Barnaby Joyce said the Australian economy needed the FTA with China.
He said if Australia did not do a deal then "our capacity to pay our bills and to refloat the economy after the disastrous episode of the previous [Australian] government is going to be impinged".
The China-Australia FTA is expected to include new rules for agricultural tariffs and services, such as finance, accounting and education. China is seeking concessions for Chinese workers on its investment projects in Australia.
President Xi Jinping will address the Australian parliament on Monday, after attending the G20 summit in Brisbane at the weekend.
In the past two decades, trade between Australia and China has grown substantially, with China now Australia's largest two-way trading partner, according to the Australian Department of Foreign Affairs and Trade.
In 2013, trade between the two countries was worth A$150bn (US$130bn; £80bn).