Islamic State crisis: Australian special forces get Iraq clearance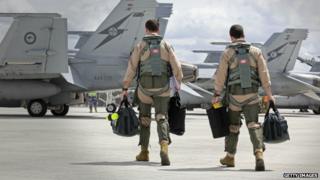 Australian special forces are finally moving into Iraq more than a month after arriving in the Middle East.
Prime Minister Tony Abbott said the 200 troops would be helping Iraqi forces in the fight against Islamic State (IS).
A prolonged legal and administrative process in Iraq meant the troops had been waiting for clearance in the United Arab Emirates since September.
Fighter jets from the Royal Australian Air Force joined the US-led coalition bombing IS targets in Iraq in October.
IS militants currently control large swathes of both Iraq and Syria, having launched a major offensive in the region in June.
Mr Abbott made the announcement about the special forces after talks with US President Barack Obama during the Asia-Pacific Economic Co-operation (Apec) summit in Beijing.
He said the troops would initially deploy to Baghdad before moving into the field.
"That is happening, and I am confident that our people will do good work," Mr Abbott told reporters.
The troops are expected to focus on advising Iraqi forces.
Expanding mission?
During a joint news conference with Mr Abbott, Mr Obama indicated that partner nations may be asked to expand their missions in Iraq.
Last week, Mr Obama authorised another 1,500 troops to be sent to Iraq, doubling the numbers of US soldiers in the country.
"I am having conversations with Australia and other coalition partners that are already committed to putting trainers in, to see how they can supplement and work with us in this overall effort," Mr Obama said.
"The key point that I emphasised to Tony [Abbott] and emphasise to all our coalition members is our task here is to help Iraqis help themselves," Mr Obama said.
As well as the 200-person special forces group, Australia also has 400 other troops in the region to support its commitment to the operation.
Mr Abbott has previously said that Australian security officials are concerned at the number of Australians "working with, connected to or inspired by" Islamist groups.
His government estimates that approximately 70 of its citizens are fighting with the Islamic State group in Iraq and Syria.
Australia raised its terrorism threat level from medium to high in September, fearing attacks from Australian jihadists returning to the country.