UN panel challenges Australia asylum stance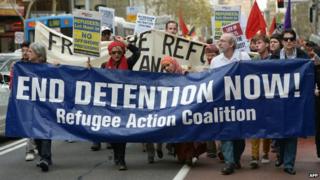 Australia has defended its immigration policies in the face of tough questioning by a United Nations panel.
The UN Committee against Torture is scrutinising the treatment of asylum seekers at offshore processing centres on Manus Island in Papua New Guinea (PNG) and on the tiny Pacific republic of Nauru, as well as the detention of children and efforts to combat people smugglers.
At a public hearing in Geneva, the committee's chairman Claudio Grossman, a Chilean-born lawyer, told the Australian delegation that detainees endured lives of great uncertainty.
"We hear also that in Nauru the processing of [refugee] claims lasts for around 10 months and in PNG two years. I can imagine that would produce tremendous anxiety in people. I can't imagine the number of people that are there and don't know where they are or what is happening to them," he said.
Mr Grossman is among 10 independent anti-torture specialists who are part of the UN investigation into Australia's record.
The committee says it is concerned that Canberra's attempts to drive people-smugglers out of business could be denying those with "valid genuine refugee claims" the chance to seek asylum in Australia.
Locking children up
In a robust session in Geneva, the incarceration of minors in immigration centres was another contentious issue.
"Without getting too dramatic here, we always have said that children do not belong in detention centres. So are you considering changing this?" Mr Grossman asked of the delegation from Australia.
It is lead by the ambassador to the UN, John Quinn, who is supported by senior officials from the Immigration, Foreign Affairs and Attorney General's departments.
"The Australian government takes its obligations very seriously. Since ratifying the convention [against Torture] in 1989, Australia has worked to ensure Australia's laws, policies and practices are consistent with our international obligations," Mr Quinn said in his opening address.
He said Canberra was committed to "effective and robust" immigration policies to protect Australia's borders and prevent asylum seekers risking their lives trying to reach Australia by sea.
Australia and asylum
Asylum seekers - mainly from Afghanistan, Sri Lanka, Iraq and Iran - travel to Australia's Christmas Island by boat from Indonesia
The number of boats rose sharply in 2012 and early 2013. Scores of people have died making the journey
To stop the influx, the government has adopted hard-line measures intended as a deterrent
Everyone who arrives is detained. Under a new policy, they are processed in Nauru and Papua New Guinea. Those found to be refugees will be resettled in PNG, Nauru or Cambodia
Tony Abbot's government has also adopted a policy of tow-backs, or turning boats around
Rights groups and the UN have voiced serious concerns about the policies and conditions in the detention camps. They accuse Australia of shirking international obligations
Australia asylum: Why is it controversial?
Under Operation Sovereign Borders that began in October 2013, the navy has been ordered to turn or tow unauthorised migrant vessels away from Australia's northern waters. Asylum seekers who arrive by sea are transferred to offshore camps on Manus Island and Nauru.
"In response to increasing number of women, men and children lost at sea over recent years while seeking to come to Australia, the Australian government has strengthened its policies to ensure the protection of migrants, including asylum seekers, and prevent their exploitation at the hands of people smugglers," Mr Quinn told the UN hearing.
Various rights groups have made submissions to the inquiry. Amnesty International Australia alleges that Canberra is in breach of several parts of the anti-torture convention, including Article 3. It states that signatories must not "return people to a country where they would be at risk of torture."
In a statement, Amnesty told the BBC it was concerned about "the cases of a Hazara man abducted and tortured by the Taliban after Australia returned him to Afghanistan and the reports of asylum seekers returned to Sri Lanka being imprisoned and tortured".
It also insisted that turning back boats at sea was "a flagrant breach of the ban on refoulement [or forced repatriation]".
'No hope'
Conditions on Manus Island and Nauru, meanwhile, have been condemned as "inhumane" by campaigners.
As a 10-year old, Mohammad Ali Baqiri, a Hazara refugee from Afghanistan, was detained on Nauru in 2001 after narrowly surviving a fire that killed his nephew on a boat that brought them to Australia.
He was taken to Christmas Island, and then transferred to the Howard-era camp in the South Pacific.
"You don't want anyone else to go through that," Mohammad explained to the BBC. "The people there had no hope. They had a lot of mental illnesses and psychotic disorders. Why keep innocent refugees and torture them? Every human being has the right to seek asylum."
For three years, he lived behind the wire fences. Amid the desperation, there were hunger strikes and disturbances
"As a little kid I had to witness people trying to commit suicide. I lost my childhood within that detention centre," said Mohammad, who is a refugee activist and is studying for a double degree in law and business.
The Australian delegation will reply to concerns raised by the anti-torture committee later on Tuesday in Geneva.
In Australia, meanwhile, Immigration Minister Scott Morrison has announced a new monitoring team will be set up to oversee immigration detention centres, including the offshore camps, after a series of abuse allegations.
The announcement comes after the death of an Iranian man in riots at Manus Island in February. Last month, Australia also ordered an inquiry into claims of sexual misconduct by staff at its offshore facility in Nauru.