MH17 disaster: Tony Abbott holds talks with Putin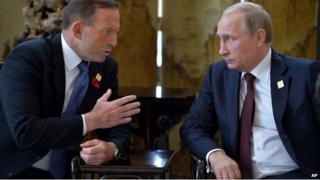 Prime Minister Tony Abbott has held talks with Russian President Vladimir Putin, with both leaders calling for progress in the investigation into the downing of flight MH17.
The Malaysia Airlines plane was shot down over Ukraine in July, killing 298 people, including 38 Australians.
Mr Abbott had vowed to "shirtfront" Mr Putin - a term to describe a sportsman charging at an opponent.
But Mr Putin's spokesman told reporters that Mr Abbott "did not try" the move.
The Australian leader has previously said those on the plane were "murdered by Russian-backed rebels using Russian-supplied equipment".
Mr Putin has denied Russia had any involvement in the incident.
"The catastrophe of the Malaysian airliner was the main topic of discussion between Vladimir Putin and Tony Abbott," the Kremlin said in a statement after the leaders met on the sidelines of the Apec summit in Beijing.
Both leaders "robustly" spoke in favour of speeding up the investigation, the statement read, adding that it was "unacceptable" that experts were still unable to access the crash site.
Earlier, Dutch officials said efforts to salvage wreckage in eastern Ukraine had not begun because of problems with local rebel groups.
A spokesman for Mr Abbott said he told Mr Putin to follow the "precedent" set by the US when it accidentally shot down an Iranian passenger jet over the Gulf in 1988.
All 290 people on Iran Air Airbus A300 died in the incident and the US later compensated the families of the victims.
Mr Putin is visiting Australia this weekend for the G20 summit in Brisbane, despite calls from many for him to be banned from entering the country by Mr Abbott.