Four Nations 2014: Australia squad hit by virus before final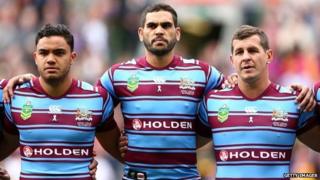 Australia's training session has been cancelled ahead of the Four Nations final because of a virus in the squad.
Several players are suffering from the illness, according to a statement on the National Rugby League website.
However, the afflicted players are expected to have fully recovered in time for Saturday's final against New Zealand in Wellington.
"I think there are about four or five blokes [affected] this morning," team member Greg Bird told Sky Sports Radio.
Bird said back-rower Beau Scott probably would not play this weekend because of a hamstring injury he suffered playing against England earlier this month.
Bird said the Kangaroos needed to play "smarter" if they were to beat their Kiwi rivals.
"It was a little erratic in game one. The combinations have been thought out a little bit better now and hopefully we can get a win."
The Kangaroos easily beat Samoa last weekend in Wollongong, with the island team providing little resistance to the Kangaroos' attacking play.
---
Four Nations results/fixtures
25 October: England 32-26 Samoa
25 October: Australia 12-30 New Zealand
1 November: New Zealand 14-12 Samoa
2 November: Australia 16-12 England
8 November: New Zealand 16-14 England
9 November: Australia 44-18 Samoa
15 November: Final (Wellington, New Zealand)