NAB move to settle class action over late fees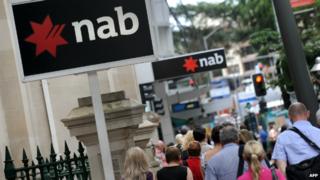 National Australia Bank (NAB) has taken the first step towards settling a class action brought against Australia's major banks over late payment fees.
NAB chief Andrew Thorburn said the bank believed a settlement was the right thing for its customers and the bank.
It pave the way for compensation for customers angry about what they say are excessive and unfair fees.
Mr Thorburn said NAB was the only major Australian bank to have axed dishonour fees and periodical nonpayment fees.
"NAB was the first and remains the only bank to abolish over-limit fees on credit cards," he said in a statement.
"Since 2010, NAB's credit card late payment fee has been A$5 - up to A$15 less than our major competitors," he said.
Australia's largest class action was brought in August by law firm Maurice Blackburn against NAB, Australia and New Zealand Banking Group Ltd (ANZ), Westpac Banking Corp, Westpac units St George and BankSA, and Citigroup Inc's Citibank.
It could be worth as much as A$250m (£136m; $217m), according to Maurice Blackburn.
NAB said it lodged papers in the Federal Court last Friday seeking approval to "open and close the class".
"This is a first but significant step towards reaching a potential settlement," it said.
Test case
As many as 272,593 accounts have been registered for the class action, according to Financial Redress, a subsidiary of Bentham IMF, which is funding the action.
An estimated 30,000 NAB customers have been hit with late fees on credit cards, according to Maurice Blackburn.
A spokesman for the law firm told local media it had been negotiating with NAB for some time but would not comment on any settlement.
"We would encourage all banks involved to follow NAB's example to negotiate in good faith, to resolve a fair outcome for all banking customers that have unfairly been charged these fees," the spokesman said.
A case against ANZ Bank is being used as a test case.
Earlier this year, the Federal Court found that ANZ's late credit card fees were unlawful but several other types of fee were legal - a ruling that was appealed by both ANZ and Maurice Blackburn.