Australia's Coalition grip weakened by Pup infighting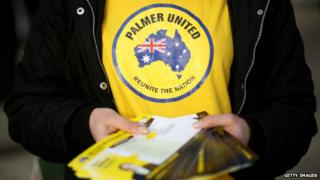 The Australian Coalition government's ability to control the Senate has become more difficult after an apparent split in the Palmer United Party (Pup).
The government needs the votes of six of the Senate's eight non-Coalition senators to pass legislation without support from Labor or the Greens.
The government has relied on Pup on several occasions to pass legislation.
Getting those votes looks tougher after harsh criticism of her own minor party by Pup Senator Jacqui Lambie.
Senator Lambie said last night that a split in the party would only be avoided if Pup leader Clive Palmer adopted more of her policy positions.
Last weekend, Senator Lambie, a former soldier, said she would vote against all government legislation unless a pay deal for the Australian Defence Force was improved. The pay deal delivered a lower-than-inflation annual pay rise of 1.5%.
Senator Lambie also called for people to turn their backs on MPs during Remembrance Day ceremonies to express anger at the pay deal, something the rest of her party did not support.
The Tasmanian senator upped the ante on Tuesday when she said she was unable to endorse the performance of Mr Palmer or her fellow Pup senators.
"One thing I won't do is lie to the Australian people and I'm not going to sit here and make my Pup senators or Clive Palmer look good when I'm not feeling that way about them," she told ABC TV.
"So if that means I've got to go it alone under the Pup flag then so be it, I'll just run it alone."
Senator Lambie said other party members were unhappy with Mr Palmer's leadership style.
Mr Palmer is a billionaire businessman who has been accused of establishing his party in 2013 as an act of revenge after his split with the Liberal National Party of Queensland.
"If the party is going to survive then they'd better come up with a bloody better plan of attack than what they've been using," Senator Lambie added.
Mr Palmer told local media he had not seen Senator Lambie for a couple of weeks but had no indications from her that she would split from the party.