David Byrne bringing disco musical to Sydney festival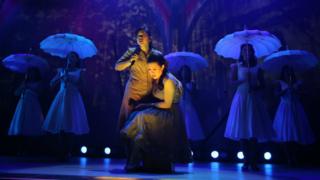 Musicals are not David Byrne's "thing". "My thing is punk."
The pop icon is in Sydney to announce that his disco musical extravaganza Here Lies Love will be the centrepiece of the city's Vivid music festival in May 2015.
The acclaimed musical, which he co-wrote with English DJ and producer Norman Cook, aka Fatboy Slim, is being supported by the NSW government.
The show will have an "open ended" season with no plans yet to travel to other cities.
Byrne, 62, best known as the front man and founding member of the New York art rock band Talking Heads, is supervising the final auditions for Here Lies Love.
"We want to overthrow [traditional musicals] and come up with a completely different way of doing things that will appeal to the audience who go to musicals but also an audience who hates them," Byrne said. "We're going to bring in an audience who hates musicals!"
Tracing the life story and rise to power of Imelda Marcos from teenage beauty queen to first lady of the Philippines, Here Lies Love is an immersive music theatre and storytelling event combining dance music, 360-degree scenic and video design, and elaborate audience participation sequences.
The title refers to a comment made by the grieving Imelda Marcos at the grave of her husband, Philippine President Ferdinand Marcos, who died in 1989 after being deposed in the "People Power Revolution" of 1986.
"The idea is you are entering into a dance club and you're getting a narrative through the music and all the action takes place all around you," Byrne said.
'Pop-up theatre'
The show will be performed in a "pop-up" theatre made of shipping containers in the emerging Barangaroo precinct on central Sydney's eastern waterside edge, which will be home to billionaire businessman James Packer's casino and hotel complex.
In Here Lies Love, Imelda's life is depicted as one long talent quest and fashion parade, with frequent outbursts of disco dancing. She was a regular visitor to some of Manila's gilded nightspots during her reign as first lady.
Here Lies Love has something of an Australian pedigree, being first performed as song cycle at the 2006 Adelaide festival.
Since then it has been recorded as a concept album featuring guest singers, including Florence Welch, Cyndi Lauper, Tori Amos and Sia Furler, and was presented as a fully mounted show at New York's Public Theatre in a production adapted and directed by Alex Timbers in 2013.
That production, widely praised, is still playing and the show has also recently opened at the National Theatre in London. Sydney is the third city to host the show.
Byrne will be involved in the final casting in Sydney and Melbourne, next week.