Australia trade deal a major boost for universities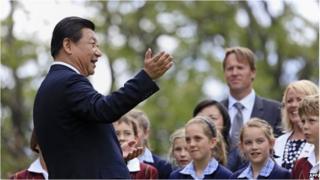 Australia's international education industry will benefit hugely from a major trade deal sealed on Monday with China, experts say.
The free trade deal (FTA) has given Australia special access to the Chinese university sector.
Australian universities will have access to a huge source of full-fee-paying international students.
The deal comes as Australian universities face major government budget cuts and deregulation of fees.
The FTA means Australian universities would be able to market degrees directly to Chinese students, said Laurie Pearcey, director of China Strategy and Development at UNSW Australia.
"It will provide a welcome boost to universities dependent on international student revenue to offset Commonwealth funding shortfalls," said Mr Pearcey.
"The agreement comes when universities face an uncertain domestic political environment and fee deregulation," he said, in an article he wrote for The Conversation, an independent academic website.
"As the student market becomes increasingly competitive with aggressive marketing from North America and Europe, Australia will be the only country in the world to enjoy this special access. If this extends to front-line student counselling and direct advertising, Australian institutions will enjoy an enormous competitive advantage," he said.
Australia's A$15bn ($13bn, £8.4bn) international education industry already had strong ties with Chinese universities and researchers, said Chief Executive of Universities Australia Belinda Robinson.
"Since 2003, formal university agreements with China have grown by 171% to 1,237 in 2014," said Ms Robinson.
"The value of these agreements to Australia both in terms of productivity, trade, foreign relations and cultural understanding is immense," she said.
'No detail'
Meanwhile, Australian Trade Minister Andrew Robb has defended the FTA against criticism it would expose Australia to the power of its largest trading partner.
"People will start to see the benefits, the jobs that come out of it and the opportunities, and not have the fear that often is pushed around the country," he told ABC TV last night.
The Opposition Labor Party has yet to make detailed comment about the deal.
Opposition spokesperson for trade and investment Senator Penny Wong said Labor generally supported trade liberalisation but wanted to see the details of the FTA before commenting further.
"The government has refused to release the text to you, me and every other Australian to tell us the detail of what they've actually agreed, and in fact the text won't be released until after signing next year," Senator Wong told local media.