Australia faces growing budget deficit, says report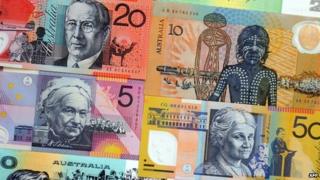 Australia's budget deficit could expand by billions of dollars more than expected, according to a new report.
Risks from economic shocks to the government's budget revenues were "weighted to the downside", said a Parliamentary Budget Office analysis.
The 2014-15 budget was particularly susceptible to slower-than-forecast labour productivity growth and a weaker terms of trade, the report said.
Australia's economic growth is largely dependent on mining and agriculture.
The analysis comes as a falling iron ore price and the government's inability to get all of its revenue-raising bills through the Senate has put further pressure on the budget.
Budget cuts and achieving a budget surplus were key planks of Prime Minister Tony Abbott's election campaign last year. His government pledged to end budget deficits by 2018-19.
There is now about A$11bn ($9.4bn, £7bn) in annual budget savings held up in the Senate, according to estimates made earlier this month by independent economic consultancy Macroeconomics.
The government also faces an additional A$10bn in unfavourable economic variations annually by 2017-18, it said.
"This is the mining boom unwinding, causing an income slowdown due to the interaction of falling commodity prices and sub-trend real activity, perhaps even exacerbated by the confidence-sapping budget deadlock," Macroeconomics said.
Treasurer Joe Hockey will deliver a budget update in December that will take account of the recent sharp fall in commodity prices. Iron ore sank below $US70 a tonne earlier this week, its lowest in five years, and is expected to remain weak.
The Parliamentary Budget Office (PBO) analysis, produced with help from former Treasury officials, said there was potential for "significant negative impacts on tax receipts" because of a slowing economy.
The PBO report examined the sensitivity of the federal budget position to changes in labour productivity growth, labour force participation and the terms of trade, major drivers of growth in Australia's national income per capita.
"Overall, the risks to the budget from the economic shocks that were modelled appear to be weighted to the downside. In particular, there is a risk that labour productivity growth and the terms of trade could fall below the budget projections with significant negative impacts on tax receipts," it said.
"Continuing efforts to enhance productivity and maintain fiscal discipline will be necessary to ensure the structural soundness of the budget over the medium term and to build a buffer to provide the fiscal space to accommodate unexpected economic shocks and other risks to the budget."