Outpouring of grief as Australia mourns for Phil Hughes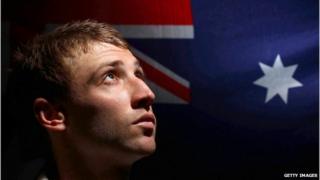 From flags flying at half-mast to a torrent of Twitter tributes, Australians are grieving the death of young cricketer Phillip Hughes.
The death of a talented sports star, especially a young one, would already be tragic enough.
But Hughes' death has resonated all the more in sports-mad Australia, where cricket is revered. Not for nothing did Prime Minister Tony Abbott call it "our national game", in his televised tribute, where he said Hughes' death was a "shocking aberration".
"His death is a very sad day for cricket and a heartbreaking day for his family. What happened has touched millions of Australians," Mr Abbott said.
His remarks came shortly after a stunning announcement from the sport's governing body Cricket Australia: despite emergency surgery, Hughes was dead, days shy of his 26th birthday.
All eyes turned to live broadcasts of a hastily convened news conference at St Vincent's Hospital in Sydney.
There, a pale and sombre-looking Michael Clarke, the captain of the Australian cricket team, read out a statement prepared by Hughes' family.
"Cricket was Phillip's life and we as a family shared that love of the game with him," Clarke read. Overcome with emotion, he stood up, eyes lowered, and quickly left the room.
Cricket Australia chief executive James Sutherland also appeared overwhelmed as he spoke to reporters: "Phillip has been taken away from us too soon. Without doubt, he was a rising star whose best cricket was in front of him."
On the pitch, the Australian flag was lowered to half-mast over the cricket grounds in Sydney and Melbourne.
A tour match between India and Cricket Australia XI in Adelaide has been called off to allow players time to mourn.
Online, Australians from all walks of life - sporting stars, politicians, citizens - expressed their shock and grief. The term "Phil Hughes" quickly trended on Twitter worldwide.
Australia's cricket team coach Darren Lehmann tweeted: "RIP you little champ, we are all going to miss you. Love, prayers to all the Hughes family xxxx."
Former Prime Minister Julia Gillard wrote: "The loss of Phillip Hughes is heartbreaking for our country. We grieve for a man who gave his all to the sport he loved."
Former national cricketer Shane Warne wrote a string of grieving tweets.
Television networks rolled footage of ashen-faced loved ones leaving the hospital, as a deluge of tributes began blanketing Australian news websites.
The Sydney Morning Herald called it "the news the country dreaded", and sports columnist Malcolm Knox praised him as "an unforgettable cricketer, a personality cricketer".
"He was smart enough to be welcomed, and loved, in any changing room he entered around the world. He was smart enough to have a good life in cricket," wrote Knox.
The Australian called Hughes the "boy wonder who never admitted defeat", mourning the loss of a "precociously talented" player in a striking black-themed multimedia piece.
The newspaper added: "The batsman may not have had the greatest technique, but his work ethic and attitude were impeccable. Senior cricketers and coaches embraced him with the sort of affection you rarely see among professional players."
The Australian Broadcasting Corporation chief cricket commentator Jim Maxwell called Hughes' death "one of the worst days in Australian sport".
"There was something fresh, dazzling, athletic and really entertaining about the way he played and the expression of youth," he said.
"We know it's a dangerous game, missiles are flying around, people duck and weave, they get hit from time to time, but for this to actually happen in a match on a big stage, and at a point where he was playing so well... it just leaves you absolutely numb."
Amid the grief, some are worrying for Sean Abbott, the bowler who delivered the shot that ended up killing Hughes.
News Limited called him "the young man Australia feels for", and quoted doctors who are concerned that he is now going through an "incredibly traumatic experience".
"There are growing concerns around the country for Sean Abbott," the site reported. "Bouncers have long been a key component of cricket and no-one is placing any blame whatsoever on the 22-year-old."