NSW calls for constitutional recognition of indigenous people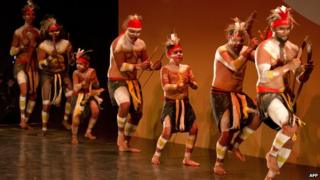 New South Wales has become the first state government to support a referendum to change the constitution to recognise indigenous Australians.
NSW Premier Mike Baird said he would encourage other state and territory leaders to do the same.
The Australian government has said it would hold a referendum but has not set a date.
Mr Baird said it would take some time "before we convince the entire country" to vote for the change.
Prime Minister Tony Abbott, a long-term supporter of constitutional recognition of indigenous Australians, has been speaking to conservative groups who do not want the constitution changed.
Indigenous Australians are not mentioned in the constitution. In the past few years, there have been discussions about recognising them in a preamble to the constitution, and about changing the main part of the constitution to include a section that outlaws racial discrimination.
Aboriginal Australians represent about 2.5% of Australia's 24 million people. Generations of discrimination and disadvantage have left them with poor health and low levels of education and employment.
Changing the constitution would require a majority of overall votes and a majority of votes in a majority of Australia's six states.
'Righting a wrong'
In 2010, the government formed an expert panel to examine constitutional recognition of Aboriginal and Torres Strait Islander peoples.
The panel, which included Indigenous and community leaders, constitutional experts and parliamentary members, led a national public consultation and engagement program in 2011, and reported its findings to the prime minister in 2012.
Mr Baird said the question was not whether the constitution should recognise indigenous Australians.
"The question is why wasn't it done in the first place? We can't answer that ... but what we can do is change," he said.
"It is an important part of who we are, it is an important part of our history," he said.
"This should not be about politics... it is about inspiring the nation to right a wrong."