Australian government 'playing politics' in asylum debate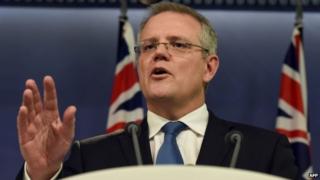 The Australian opposition has accused the government of using asylum seekers as political pawns in a bid to pass a controversial law affecting refugees.
Ministers want the senate to pass a bill tightening asylum laws before parliament rises for the year.
Immigration Minister Scott Morrison has offered a series of compromises in the hope of winning support.
But senior opposition figure Tony Burke said the government was holding "people as hostages" to get the bill passed.
Australia currently detains all refugees and asylum seekers arriving by boat and takes them to offshore camps in Papua New Guinea and Nauru.
Critics say the amendment to the bill, which would expand the immigration minister's powers, would let the government remove asylum seekers, even if they are at risk of persecution.
In a bid to woo cross-bench senators, Immigration Minister Scott Morrison said he would increase Australia's refugee intake by 5,000, release child asylum seekers from detention by Christmas and allow refugees to apply for extra temporary visas.
On Thursday, the deal received support from two senators - both from the minor Palmer United party - but it needs another four cross-bench votes to be passed.
The opposition Labor Party and the Greens have said they will not vote for the legislation, known as the Migration and Maritime Powers Legislation Amendments (Resolving the Asylum Legacy Caseload) Bill 2014.
Speaking to ABC Radio, Mr Burke, house leader for Labor, said: "I find it chilling that [Immigration Minister] Scott Morrison is effectively wanting to use people as hostages here."
"He could've started processing [asylum seekers]. He chose to not do the processing, and is now saying unless we vote for his measures, then he'll continue to keep people in detention."
However Mr Morrison has said the government's offer provides a route out of the current political impasse.
"If the senate does not feel like supporting an increased intake, work rights and getting children out of detention in return for the government being able to implement the mandate it got at the last election for temporary protection visas, [boat] turn backs and fast processing to resolve a legacy caseload, then you'd have to ask - what would they support?"
Mr Morrison has offered to increase Australia's refugee intake of 13,750 to 18,750 over four years.
At the same time he has vowed the government will process the so-called legacy caseload of 30,000 asylum seekers whose claims have not yet been processed. The coalition inherited those asylum cases from the previous Labor government.
Turned back
In addition some asylum seekers would be allowed to work or study in designated regional areas under a new so-called "safe haven" visa, lasting for five years.
But they would not be able to apply for permanent protection visas.
The government said on Thursday it would be proposing that the senate sits late on Thursday night, and possibly on Friday morning, to deal with 10 bills that have yet to pass - including the migration bill.
A report published by the UN in November found Australia's policies on asylum seekers contravened the UN Convention Against Torture.
Ministers have remained steadfast in their view that all people arriving by boat seeking asylum in Australia will be either towed out of Australian waters or held in offshore detention centres.
"For anyone seeking to come to Australia by boat you will be stopped, you will be turned back," Mr Morrison said on Wednesday.
Australia and asylum
Asylum seekers - mainly from Afghanistan, Sri Lanka, Iraq and Iran - travel to Australia's Christmas Island by boat from Indonesia
The number of boats rose sharply in 2012 and early 2013. Scores of people have died making the journey
To stop the influx, the government has adopted hard-line measures intended as a deterrent
Everyone who arrives is detained. Under a new policy, they are processed in Nauru and Papua New Guinea. Those found to be refugees will be resettled in PNG, Nauru or Cambodia
Tony Abbot's government has also adopted a policy of tow-backs, or turning boats around
Rights groups and the UN have voiced serious concerns about the policies and conditions in the detention camps. They accuse Australia of shirking international obligations.
Australia asylum: Why is it controversial?