Australia bushfires: Victoria warned to prepare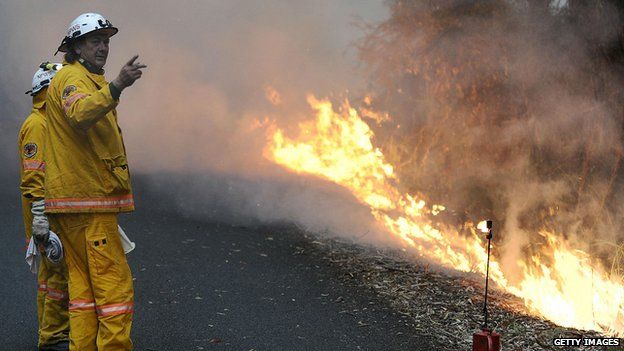 Australia's worst state for bushfires, Victoria, needs to prepare for another dangerous season, a new report warns.
Victoria's bushfire season outlook has been upgraded from "above normal" to "major", it said.
It says the cost of bushfires in the state in 2014 is projected to be more than A$172m ($142m; £91m).
The ads tell Victorians to leave their homes early rather than adopting the conventional wait-and-see approach to bushfires.
Victoria's new premier, Daniel Andrews, said no-one should expect firefighters to door-knock homes when they were fighting fires.
"Last minute planning, waiting to see, that can be fatal," said Mr Andrews. "Instead, leave and live."
Australia needs to double the number of firefighters by 2030 to cope with a greater bushfire threat, according to the CC report.
A growing population, vulnerable assets in bushfire-prone areas and warmer weather have increased the risks, it said.
The upgrading of Victoria's bushfire season outlook follows record October warm weather and forecast hot, dry conditions.
Report author Professor Lesley Hughes said the projections only took into account increasing population and assets "and do not incorporate increased bushfire incident rates due to climate change and so could potentially be much higher".
"Victoria has experienced Australia's most costly and deadly fire seasons in recent years despite comprising only 3% of the country's land mass," he said.
In NSW, fire authorities have said the concept of a "normal" fire season is now redundant in that state and said people had to accept that property losses were inevitable.
In October last year, the Winmalee community in the Blue Mountains west of Sydney suffered devastating fires that blazed through the small community and surrounding areas, destroying almost 200 homes and thousands of hectares of bushland.
Across much of Australia, high temperatures this summer are expected to combine with below average rainfall to create very dangerous bushfire conditions.