Tributes for Phillip Hughes at Australia-India cricket Test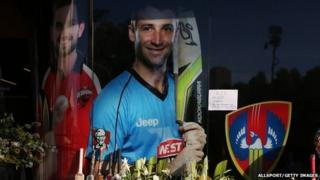 Australia are playing India in the first Test in Adelaide - in an emotion-charged game following the death of Phillip Hughes.
The Australian players entered the ground wearing Hughes' Test cap No 408 on their shirts and black armbands to honour their former teammate.
Spectators were then asked to stand for 63 seconds of applause before the game.
Hughes, 25, was 63 not out when he was struck on the neck by a bouncer last month. He died two days later.
His death stunned Australia and the funeral was broadcast live to millions of people on national television and on big screens in major cities.
Around 5,000 people attended the service in Hughes's home town of Macksville, New South Wales.
'13th man'
Before the game, both the Australian and Indian teams gathered before a large 408 painted on the Oval's playing surface.
The players and spectators watched a video tribute to Hughes, narrated by Australia's former Test captain Richie Benaud.
Hughes has also been symbolically named "13th man" in the Australia squad.
"It's going to be an emotional morning," Australia fast bowler Mitchell Johnson said.
Michael Clarke - who is captaining Australia - delivered a moving eulogy for Hughes at the batsman's funeral on 3 December.
Clarke praised Hughes as "a man whose soul enriched all of our lives".
The opening Test - which had been scheduled in Brisbane on 4 December - was delayed following the death of Hughes on 27 November.
The player had been wearing a helmet but the ball struck him at the top of the neck, causing the injury.
On Tuesday morning, Australia won the toss and chose to bat.