Ukraine's President Poroshenko begins Australia visit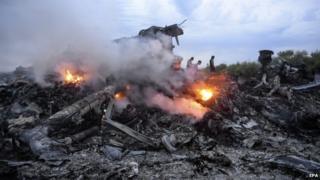 Ukraine's president has begun a two-day visit to Australia, with the shooting down of the Malaysia Airlines flight MH17 dominating the agenda.
Petro Poroshenko met Australian PM Tony Abbott, and the two leaders were set to attend a prayer vigil for the victims.
Ukraine and the West accuse Russia of supplying the missile to bring down the plane over rebel-held eastern Ukraine in July. Russia denies the claim.
All 298 people on board the plane - including 38 Australians - died.
'Reaffirming support'
At a joint news conference on Thursday, Mr Abbott described the shooting down of MH17 as "mass murder", saying he wanted an inquiry "to be concluded as quickly as possible".
On the eve of President Poroshenko's two-day visit, Mr Abbott said the two leaders would "discuss our shared commitment to a thorough and robust investigation and to bringing those responsible to justice".
The prime minister also reaffirmed Australia's support for Ukraine's territorial integrity in "the face of continuing threats".
He was referring to Russia's annexation of Ukraine's southern Crimea peninsula in March and accusations that Moscow was arming separatist rebels in eastern Ukraine and sending its regular troops there.
Russia has repeatedly stated that any Russian nationals fighting alongside the rebels in the Donetsk and Luhansk region are "volunteers".
Mr Poroshenko thanked Mr Abbott and the Australian people for their support, saying the "whole world is together with Ukraine".
In September, Mr Abbott's government said it would provide non-lethal assistance to Ukraine's armed forces.
In Australia, Mr Poroshenko is also expected to meet local business leaders to discuss investing into Ukraine's struggling economy.
Australia has already provided nearly AS$100m (£53m; $83m) to the International Monetary Fund to help support Ukraine.