Sydney siege: Gunman Monis had illegal firearm, say police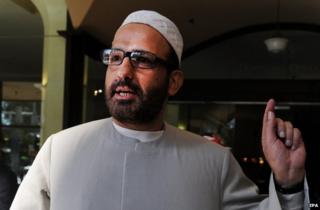 The man who took 17 people hostage in a cafe in Sydney on Monday was carrying an illegally owned firearm, Australian police have said.
PM Tony Abbott said on Wednesday that he wanted to know how Man Haron Monis was able to get a gun licence despite a history of violence and instability.
New South Wales Police said Mr Abbott had been given inaccurate information.
Two people died along with Monis when police stormed the Lindt cafe to end the 16-hour siege.
Four other people, one a police officer, suffered gunshot wounds.
Some of the hostages have been talking to the media about their experiences inside the cafe, and the moment police moved in.
One man who managed to escape told his family he believed they would "not survive until the morning if they did not do something".
Bail concerns
On Wednesday, Mr Abbott announced a review into the background and security checks on Monis.
He said questions must be asked about why Monis - an Iranian who first came to Australia as a refugee in 1996 - was not on a security watch list despite a history of violence and mental instability, and why he had a gun licence.
But the Australian Federal Police said it had since "confirmed that there is no record of Mr Monis ever having held a firearms licence", and that the inaccurate information was based on one manual entry in a police reference database.
Monis had a history of religiously motivated activism and called himself a cleric, but officials have said there is as yet no evidence his actions were linked to international Islamist militant networks, despite his use of a flag with the Islamic creed on it during the siege.
He was also out on bail after being charged with dozens of sexual assault charges and with being an accessory to the murder of his ex-wife, who was stabbed to death and set alight last year.
His partner, Amirah Droudis, was charged with the murder and is also out on bail.
The New South Wales (NSW) Attorney General Brad Hazzard said on Thursday that following the "horrific events" involving Monis he had asked the NSW Director of Public Prosecutions to review the decision.
"On behalf of our community I want to know whether every aspect of her being on bail has been examined in all possible detail," he said.
The father of 21-year-old Joel Herat, who was inside the cafe, has told Australian media that Monis began dividing the hostages into groups in the early hours of Tuesday morning.
---
How the 16-hour Sydney siege unfolded
1. At 09:45 on Monday local time (22:45 GMT Sunday) police are called to the Lindt Chocolat Cafe in Sydney following reports of an armed robbery. It soon emerges a gunman is holding a number of people hostage.
2. Between 16:00-17:00, three men, then two women, sprint to safety from the cafe's side door - a fire exit.
3. Just after 02:00 on Tuesday, a loud bang is heard from the cafe and special operations officers advance towards the side door.
4. More hostages escape, running to safety on Elizabeth Street.
5. Moments later, commandos storm the cafe via a number of entrances. The remaining hostages escape.
6. Police officially confirm the end of the siege at 02:45 local time. They later report the deaths of three people, including the gunman.
How Sydney cafe siege unfolded
The victims: Katrina Dawson and Tori Johnson
---
Mr Herat told The Age newspaper that Joel believed they would be killed so he and five others broke through an internal door.
"The moment they busted that door down, Joel heard shots in his proximity," said Mr Herat.
John O'Brien, 82, was the first hostage to escape, along with lawyer Stefan Balafoutis, on Monday afternoon.
He told the Associated Press that Monis was using three women as human shields to protect him from police snipers.
Mr O'Brien had hidden behind a sign and managed to hit a button which opened the front doors. He and Mr Balafoutis were seen on television running from the cafe towards armed police.
Katrina Dawson, 38, and cafe manager Tori Johnson, 34 died during the police raid.
Police have not yet said who shot them, but witnesses have said Mr Johnson was trying to take Monis's gun from him, while Ms Dawson, who had three children, was protecting her pregnant friend.
The government's review will take account of the parallel investigations into the incident including those by the NSW State Coroner, NSW Police and Australian Federal Police.
New South Wales Police Commissioner Andrew Scipione said earlier that a separate investigation into the actions of police officers at the siege was well advanced, but that he believed officers made "absolutely the right call" in storming the Lindt cafe to end the siege.