Australia PM Abbott: Cutting household bill helped women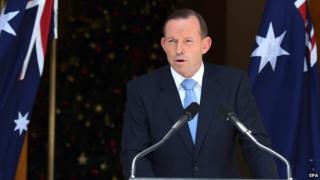 Australian leader Tony Abbott has been criticised for saying that women had benefitted from his scrapping of a carbon tax, as they were "particularly focused on the household budget".
Mr Abbott was stating his biggest achievement for women in an interview after Sunday's cabinet reshuffle.
Opposition leaders said his comments reflected an outdated view of women.
Mr Abbott insisted the extensive reshuffle was not the sign of a crisis. His cabinet has only two women.
One of them - Health and Sports Minister Sussan Ley - was appointed in the latest reshuffle.
He also removed the defence minister, David Johnston, and promoted the immigration minister, Scott Morrison, to the social services ministry.
The prime minister's approval ratings have sunk to an all-time low, amid a slowing economy, spending cuts and accusations of broken promises.
Asked about his greatest achievement for women, Mr Abbott - who is also the minister for women - told Nine Network that the repeal of the carbon tax would benefit a family by A$550 (£286;$449) a year.
"Well, you know, it is very important to do the right thing by families and households," he told the network. "As many of us know, women are particularly focused on the household budget."
While in opposition, Mr Abbott had said that repealing the carbon tax would help women by reducing the cost of electricity used in ironing.
'Give us a break'
Anthony Albanese, a front-bench politician from the opposition Labor party, told Fairfax Media that Mr Abbott's remarks belonged to a bygone era.
"The problem isn't that Tony Abbott's stuck in the past, it's that he wants the rest of Australia to go back there and keep him company in a world where men do the big jobs and women do the ironing," he is quoted as saying.
Acting opposition leader Penny Wong said Mr Abbott's cabinet did not reflect the prominence of women in Australian life.
"Tony Abbott wants a medal for having two women in his Cabinet. Give us a break," she said, in remarks quoted by Australian broadcaster ABC.
The only other woman in Mr Abbott's cabinet - Foreign Minister Julie Bishop - defended his remarks, saying that "women's policy is everyone's policy".
"I think the prime minister was focusing on the policy change that will have the largest impact on families and households and getting rid of the carbon tax is certainly that."