Australia to cash in on China milk boom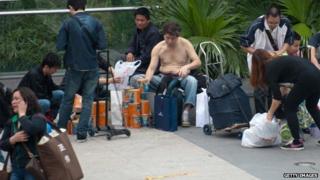 A free trade deal with China that slashes tariffs on dairy exports could turn Australia into a land of milk - if not honey - and set it up to take advantage of China's addiction to Western powdered milk.
Ever since a milk poisoning scandal in China in 2008 killed six children and left 300,000 seriously ill, the communist giant has had a mania for the Western product.
Demand has been so strong it has caused shortages in other countries and encouraged an illegal trade across the Chinese border.
Infant formula has long been the preferred food for infants in China but more recently Chinese mainlanders holidaying in Western countries have been taking home tins of milk powder as presents for friends and family.
'Milk war'
New Zealand's dairy industry has been a major beneficiary of this love affair with powdered milk. But a major free trade agreement (FTA) signed between Australia and China in November means the Australian dairy industry will likely be the next big winner.
Under the deal, tariff cuts have rendered Australia's dairy market so attractive that even the country's richest person, mining magnate Gina Rinehart, is investing in the industry.
The agreement, almost a decade in the making, put Australian farmers in general on a par with their New Zealand counterparts, according to Australian Trade Minister Andrew Robb, and put the country's dairy farmers ahead of their Kiwi cousins.
Chinese tariffs on Australian dairy products that currently range from 10% to 15% will be cut over a period of four to 11 years, and a 15% tariff on infant milk formula will be phased out within four years.
The cuts represent a significant windfall for an industry that has suffered from low exports over the past decade and been hurt by a domestic "milk war" between major supermarket chains.
The benefits flowing from the FTA are substantial, says group manager of trade and industry strategy at Dairy Australia, Charlie McElhone, especially in the dairy industry.
"There is a white gold rush and unprecedented demand and interest," says Mr McElhone. "The FTA is a good outcome. There are tariff savings and growth and investment opportunities, more exports and more profit," he says.
Demand explosion
Along with the milk poisoning scandal, a baby boom stemming from relaxation of China's one-child policy, the spending power of China's growing middle class and a shift towards a more protein-heavy diet have all fuelled China's demand for milk powder and other dairy products.
Infant formula sales there have increased more than tenfold over the past decade and are expected to double again in the next three years, according to London-based market research firm Euromonitor.
A 900g tin of infant formula sells for between A$20 ($16, £10.5) and A$25 in Australian supermarkets. Trade and transport costs mean the same tin can cost up to A$100 when it reaches a breakfast bench in China.
The value of New Zealand dairy exports to China since a free trade deal was signed between those two countries in 2008 shows just how valuable such deals are. It has increased tenfold and is now worth more than A$5bn. By comparison, Australian dairy exports to China were worth A$450m in 2013.
New Zealand's Fonterra Cooperative Group, the world's biggest dairy exporter, estimates the Chinese market for infant formula will rise to A$31bn in 2017 from about A$17bn now.
Mr McElhone says Australia's FTA has prompted a lot of interest from domestic and foreign investors in the Australian diary industry.
For starters, Ms Rinehart has partnered with China National Machinery Industry Corp to invest A$500m in Hope Dairies in Queensland to supply 30,000 tonnes of baby formula to China starting in 2016.
Meanwhile Linear Capital, a Tasmania-based private investment firm with links to Chinese state-owned consortiums, plans to buy 50 dairy farms in western Victoria to create Australia's largest dairy farming company. Together the 50 farms will run 90,000 cows and produce 500m litres of milk.
Linear plans to supply two new consortium-owned processing plants (to be built nearby) to process and export A$700m worth of infant formula to China and global markets.
Quality concerns
But it's not all milk and honey. Victorian farmers fear Australia's reputation as a supplier of premium milk and milk products could be threatened by such Chinese investment, especially if these new operations don't meet Australia's high production standards.
Chris Gleeson, president of the advocacy group Farmer Power, says Australia has "the number one standard in the world and we don't want that to slip away".
"We want to make sure we don't lose our pride in the quality product we produce," Mr Gleeson says.
Dairy Australia welcomes foreign capital and recognises the need for investment, says Mr McElhone, but he says every venture must uphold Australia's reputation and standards for pristine food safety.