South Australia fires: 'Hundreds' of animals dead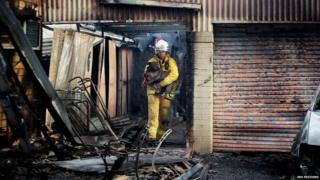 Hundreds of animals are believed to have been killed in South Australia since bushfires began burning out of control in the Adelaide Hills last Friday.
Vets and animal rescue teams have gained access to parts of the devastated areas to treat pets, livestock and native animals.
However, many animals have not survived or have been put down, according to animal welfare groups.
The fires have been raging across some 12,500 hectares (30,888 acres) of land about 30 minutes drive south east of Adelaide.
More than 100 people have needed hospital treatment, while at least 32 homes (revised down from 38) and 125 outhouses have been destroyed.
Rain was falling on parts of the Adelaide Hills on Wednesday afternoon, bringing some relief to firefighters who have reportedly now contained much of the blaze.
But lightning strikes and damaging winds could pose more hazards, according to Australia's Bureau of Meteorology.
Many animals not killed or burnt by the fires have been left without food, water or access to shelter, according to the South Australian branch of the Royal Society for the Prevention of Cruelty to Animals (RSPCA).
The extent of the loss of animal life was unknown, so far, chief executive officer of the state's RSPCA, Tim Vasudeva, told the BBC. He said many areas were still subject to dangerous fire flare ups.
RSPCA staff and vets have been moving from property to property feeding and watering companion animals such as dogs, cats and horses, sending some animals away to be treated, or humanely euthanising those too badly hurt to survive.
"In the case of dogs and cats, if they are healthy you just need to make sure they are secure, feed and water them and make a note of what property they are on," said Mr Vasudeva.
"We have taken koalas out, we have treated horses on properties and wildlife in the bush and we have taken quite a few animals away [for treatment]."
The Australian Marine Wildlife Research & Rescue Organisation (AMWRRO) has treated the burnt paws of a young male koala brought to its Torrens Island centre 15km northwest of Adelaide.
The koala, found in the Adelaide Hills, would likely have died if it had not been rescued, AMWRRO President Aaron Machado told the BBC. He said staff were confident the koala would recover in a couple of months and be released back into the wild.
Dubbed Jeremy by the staff, the koala faced a high chance of dying from infection or starvation, said Mr Machado.
"Koalas don't have immune systems so the risk of death from infection is very high. We have cleaned his wounds and dressed them with sterile bandages," he said.
"They get to a point where they are in so much pain … they just sit at the bottom of a tree and scream."
In one of the worst cases discovered so far, firefighters managed to save more than 40 dogs at one commercial kennel in Inglewood but a large number of animals reportedly died, including all of the cats.
The owners of the Tea Tree Gully Boarding Kennels and Cattery initially used social media to share the news of what had happened but soon had to close their sites because of hate mail posted online.
"We have lost a home, business and pets we love and feel so awful about the loss of people's beloved pets," a post on the business's Facebook page said, according to ABC News.
South Australia's Primary Industries Department said it was too early to tell how many livestock had died.
Chief veterinary officer, Roger Paskin, told local media the department was offering assistance to property owners.
"We will send teams out to evaluate their livestock and assist with them with that and if necessary to euthanise livestock that are too badly burnt to recover," he said.