Australian police Taser man with knife outside parliament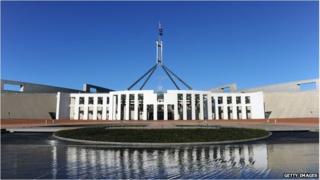 Australian police have used a Taser stungun on a man wielding a knife outside the parliament building in Canberra.
The man was stopped on a lawn outside the ministerial entrance at around midday by police, who tried to persuade him to drop the weapon.
The stungun was used when he refused to give up the knife.
The man was restrained and taken to hospital, but police said there were no national security concerns.
The roads around parliament were briefly cordoned off.
Parliament is currently on its summer recess and Prime Minister Tony Abbott was not in the building at the time.
Security was recently increased at Parliament House amid concerns of a potential terror attack.