Australia's Aboriginal comedians fight prejudice with wit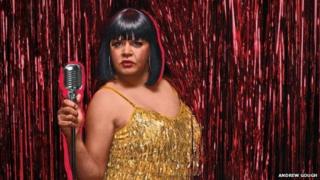 Constantina Bush stands at 6 ft 3 barefoot (190cm) - or just shy of seven foot in heels. She is brash, swaggering, and politically incorrect. She is also all-Aboriginal.
In the new show, Blak Cabaret, this burly drag queen rules. And in a retold version of history she asks: What would happen if blacks invaded a white native Australia?
The Sydney Festival premiere, featuring Torres Strait Islander and Aboriginal performers, addresses the arrival of the First Fleet in Australia, the acquisition of the land, and the introduction of Christianity. It is done for laughs.
But underscoring the jocularity are some uncomfortable truths.
"It's an Aboriginal invasion!" jibes producer Jason Tamiru, 40, adding in more serious tones: "The social statistics show that we're still trying to come to grips with [white occupation]. We're still struggling."
"How does one talk about this?" asks Kamahi Djordan King, aka Constantina Bush.
"With comedy, humour, song, and dance. Walk in my shoes for a bit. Enjoy yourself, then go away and think about it," says King.
Indigenous comedy has emerged as a way to laugh off racism, tackle injustice, and educate the ignorant. Since the inaugural indigenous 2007 Deadly Funny comedy competition, stand-up, in particular, has taken off with comics such as Sean Choolburra, Kevin Kropinyeri, and Mia Stanford now well known.
Yet comedy has not always broken through to the mainstream. In 1973, national broadcaster ABC's sketch show Basically Black, the first all-indigenous television program, never made it past the pilot episode. Australian audiences were not deemed ready to laugh at, or with, indigenous culture. It was too raw and too remote.
'Too painful'
Today, as awareness and acceptance has grown, so has satire. It is no accident, says Tamiru, that indigenous comedians are appropriating Western art forms to reinforce their message.
"The timing is perfect because people are a little bit more switched on with black history. A few years ago, mainstream environments might not have had an indigenous show like Blak Cabaret."
Last year, four decades after its first attempt, the ABC screened the sketch series Black Comedy. It received critical acclaim for taking the mickey out of both black and white culture: no-one was spared.
The series was co-written by Nakkiah Lui, a Gamilaroi/Torres Island Strait playwright with Blak Cabaret who is performing in her new play, Kill the Messenger, at Sydney's Belvoir theatre.
King, 42, uses humour to address hard-hitting issues. He sources inspiration for his alter ego from his own family in Australia's Northern Territory: "We have always been full of laughter but I guess it's a way to cope."
In one 2009 sketch, Constantina Bush hooks up with army man "Eric". It was a response to "The Intervention", in which troops were deployed to the Northern Territory as part of a broader policy of law enforcement and stopping alleged child abuse in Aboriginal communities.
Meanwhile, the Recognise campaign, which seeks to acknowledge indigenous peoples in the Australian constitution, is still "too fresh" for King to write about. And his past attempts at tackling domestic violence and alcoholism proved too thorny.
"I do have to be careful," he says. "I've had people getting annoyed with me being a man dressing up as a woman wearing the Aboriginal flag in sequins. It's like, umm it's my flag too, guys."
"We make fun of our own disadvantage," acknowledges Mia Stanford, 33, 2007 Deadly Funny winner. "A lot of black comics like to joke that they come from a mission or everyone in their family has gone to prison. That's painful stuff," she says.
'Representing your people'
Stanford is shocked that most Australians have such scant knowledge of, or interest in, the first Australians. "We are still animals in zoos to some extent," she sighs.
Comedy is an excuse to break down the "us and them" mentality. She insists: "We do celebrate Christmas, we're not apes, and you can talk to us."
People think "we are a people who still survive on the land by going hunting with a boomerang and a spear and [who] live half naked under a tree," agrees Melbourne-born and bred Tamiru.
"It sounds quite nice, actually," he laughs. By blending indigenous traditions of oral storytelling with cabaret and burlesque he hopes to break down stereotypes.
King is acutely aware that "whatever you do, you are representing your people at all times, whether you like it or not".
Likewise, Stanford bemoans the freedom of white comedians who can joke about trivial things like "the toaster and how it burns crumpets".
Balancing mirth and misery is central to all good comedy. Yet, for non-indigenous audiences this comes with awkwardness.
"They don't know if they're allowed to comment," says Stanford. "They don't know if they are even allowed to have an opinion."
But provoking a reaction is exactly the point. "We're basically going to invade their space," says Tamiru enthusiastically.
At a recent reading of Blak Cabaret in Melbourne for Malthouse Theatre staff, "arms were getting crossed and they were starting to get uncomfortable", he says. "It puts the people right in the front line of what it feels to be an indigenous person."
Blak Cabaret appears at the Sydney Festival from 20-25 January and at the Malthouse Theatre in Melbourne from 10 - 22 February.