Australia asylum: Abbott says Manus Island blockade 'broken'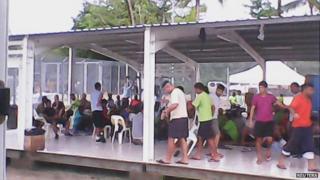 Australian leader Tony Abbott says an asylum-seeker protest at an offshore detention camp has been "broken".
His comments came after guards at the Manus Island camp in Papua New Guinea (PNG) entered a compound where hunger-striking detainees had barricaded themselves in.
Some asylum seekers were reportedly arrested in the operation, which came amid an intensifying week-long protest.
But a campaigner says hundreds of asylum seekers remain on hunger strike.
Australia sends all asylum seekers arriving by boat to camps in PNG and the Pacific territory of Nauru for detention and processing.
The policy of detaining asylum seekers offshore - intended as a deterrent - has been criticised by rights groups.
Reports from the centre are hard to verify. The media is not allowed access to the site and statements from officials and refugee advocates cannot be confirmed independently.
'Degree of force'
Protests began at the Manus Island camp last week and two days ago reports emerged that some detainees had barricaded themselves into one compound.
Guards, reportedly wearing riot gear, entered the compound on Monday afternoon.
"There was a well-organised, well-coordinated protest in some parts of the Manus centre. It amounted to a blockade," Mr Abbott said.
"The important thing is that order has been restored," he added. "The blockade of the compound had been lifted."
Australian Immigration Minister Peter Dutton said a "degree of force" was used, but said the situation "didn't escalate to the point where the police had to present themselves and be in conflict with the people that are in the centre".
Ian Rintoul, a spokesman for campaign group Refugee Action Coalition, told the BBC 58 people had been arrested.
The guards are said to have been searching for alleged detainee ring-leaders, who have been accused by Australian authorities of instigating the protest.
Several detainees are said to have been taken to a solitary confinement unit at the centre. There were also reports of minor injuries, mainly among the detainees.
The situation at the other compounds at the camp is not clear. According to Mr Rintoul, hundreds of asylum seekers are still on hunger strike.
On whether protests continued at the centre, Mr Dutton said: "There will still be some people who refuse to take water or food and will self-harm and we don't want to see that."
Resettlement plans
Tensions have escalated at the centre since the protest began last Tuesday. Several detainees have reportedly been harming themselves by sewing their lips together and swallowing blades and washing power.
The health of those on hunger strike has worsened, with accusations that the authorities stopped providing water, as well as food, to some detainees.
However, the authorities denied this, instead accusing the detainees of preventing the deliveries. Mr Dutton has also accused the asylum seekers of aggressive and disruptive behaviour.
The detainees are reportedly protesting against a plan to move those of them who have been officially recognised as refugees to Lorengau, the capital of Manus province.
The detainees are said to be afraid that they will be attacked by local people if they are moved to Lorengau.
The Manus Island centre was the scene of deadly riots last February, when local residents entered the facility and clashed with detainees. One asylum seeker was killed and at least 70 were hurt in the violence.
Under laws brought in by the previous government, none of the people held in offshore camps can expect to be resettled in Australia - even if they are found to be genuine refugees.
The government says its tough policies are aimed at ending the flow of boats carrying asylum seekers, so that no more people die making the dangerous journey to Australia.
Only one such boat reached Australia during 2014, compared with the 401 which successfully reached shore in 2013, according to local media reports.
---
Australia and asylum
Asylum seekers - mainly from Afghanistan, Sri Lanka, Iraq and Iran - have been travelling to Australia's Christmas Island on rickety boats from Indonesia
The number of boats rose sharply in 2012 and the beginning of 2013, and scores of people died making the journey
Everyone who arrives is detained. They are processed in camps in Christmas Island, Nauru and Papua New Guinea. Those found to be refugees will be resettled in PNG or Cambodia, not Australia
The government is believed to be towing boats back to Indonesia. It has also returned asylum seekers intercepted at sea to Sri Lanka
Rights groups and the UN have voiced serious concerns about the policies
---