Lawyer: US 'will clear' Australia ex-Guantanamo man David Hicks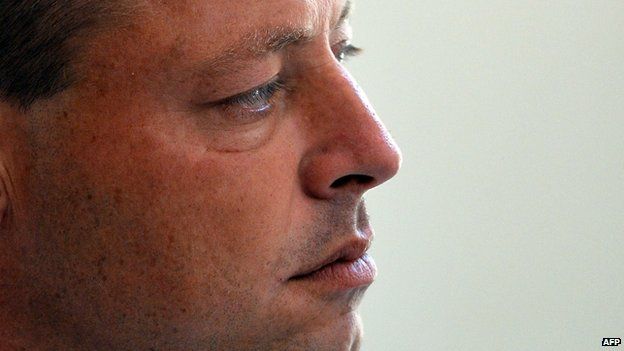 The United States has accepted that the former Guantanamo inmate, Australian citizen David Hicks, is innocent, his lawyer says.
Lawyer Stephen Kenny told the Australian Broadcasting Corporation (ABC) that he expected Hicks's 2007 conviction "to be set aside".
Hicks's lawyers appealed his conviction last month, saying it was unsound.
Hicks had pleaded guilty to terrorism charges in a deal that allowed him to complete his sentence in Australia.
The Australian was convicted of providing "material support for terrorism" and transferred from Guantanamo Bay to an Australian jail for the remaining months of his sentence.
Hicks - nicknamed "the Australian Taliban" by the press - was captured in Afghanistan in 2001 on suspicion of fighting alongside Taliban and al-Qaeda militants.
He was sent to the US military prison Guantanamo Bay the following year, where he says was tortured. His lawyers have said he confessed under duress, at a time when he was suicidal and desperate to leave Guantanamo.
In an interview with ABC radio, Mr Kenny also said the charges against Hicks were not valid, as demonstrated by recent court rulings in the US. He said he expected a US military commission to respond to the appeal within a month.
"I have no doubt that whether or not the military commission clears David, he will certainly be cleared in the higher courts of the United States if we need to go there," he told ABC.
US civilian courts have ruled that the charge of providing material support for terrorism cannot be considered a war crime in cases that were brought for actions before 2006, when new laws were adopted.
A US military commission recently overturned the conviction of a former Guantanamo inmate from Sudan, Noor Mohammed, who made a plea bargain under a similar charge to Hicks.
"There had been court rulings that the charge Mr Hicks pleaded guilty to was not actually a crime so the charge was 'simply invalid'," Mr Kenny told ABC, citing the Noor Mohammed case as a precedent.
According to Reuters news agency, the Pentagon has refused to comment directly on the Hicks case, saying it was a matter for the courts.
"The government will make additional responses through court filings," Lt Col Myles Caggins, a Pentagon spokesman, was quoted as saying.
In the ABC interview, Mr Kenny also said he hoped the Australian government - which at the time had supported Hicks's detention at Guantanamo - would apologise for its actions.
Last year, a scathing US Senate report said the CIA carried out "brutal" interrogations of al-Qaeda suspects. The report concluded that the agency misled politicians and the public about the 2001-2007 programme for terror suspects.
The CIA has defended its actions in the years after the 9/11 attacks on the US, saying they saved lives.