Australia asylum: Sea detention of Sri Lankans legal, court rules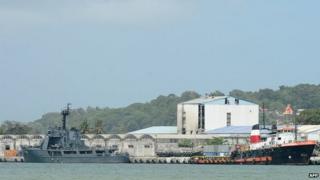 Australia's month-long detention of 157 asylum seekers at sea last year was legal, the High Court has found.
The court ruled the Sri Lankan group were not entitled to claim damages for false imprisonment.
An Australian customs ship intercepted their boat off Christmas Island, an Australian territory, on 29 June.
The Sri Lankans, who had left India 16 days before, were eventually taken to Nauru after efforts to return them to India failed.
In recent years, asylum seekers - mainly from Afghanistan, Sri Lanka, Iraq and Iran - have travelled to Christmas Island in the Indian Ocean on boats from Indonesia, hoping to be accepted into Australia as refugees.
To deter their arrival, the Australian government processes them in offshore camps on Christmas Island, and in Nauru and Papua New Guinea. Those found to be refugees will be resettled in PNG or Cambodia, not Australia.
The Australian government says its aim is to save lives by preventing people getting on dangerous boats but rights groups have criticised conditions in detention camps.
Boats have also been towed back to Indonesia and last year a separate group of Sri Lankans were intercepted at sea and handed over to the Sri Lankan navy.
'Cruel treatment'
Tuesday's court case was mounted on behalf of a Christian Tamil Sri Lankan named in court documents as CPCF, who was on the boat with family members, reported Australian Associated Press.
The judgement was not unanimous, reported the Australian Broadcasting Corp, with four judges ruling that the detention was legal and three ruling against it.
The Human Rights Law Centre (HRLC) assisted the legal team in the case, brought by Shine Lawyers and Ron Merkel QC.
Ahead of Wednesday's court decision, HRLC executive director Hugh de Kretser said the asylum seekers had endured a harrowing ordeal.
"One hundred and fifty seven people - including 50 children - spent nearly a month detained at sea," said Mr de Kretser.
"For the most part they had no idea where they were or where our government planned to send them, nor did the Australian people," he said.
"Their treatment was cruel. It was in clear breach of international law."
The Sri Lankans will remain on Nauru until their refugee status has been determined.