Queensland poll setback for Australian PM Tony Abbott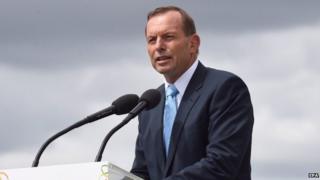 Australian Prime Minister Tony Abbott's coalition appears to be heading for an embarrassing electoral defeat in the northeastern state of Queensland.
The Liberal National Party's (LNP) huge majority in Queensland's state assembly was wiped out, with Premier Campbell Newman losing his own seat.
With most of the votes counted, the opposition Labor party seems set to gain control of the state.
Mr Abbott said there were "obviously lessons in the election result".
"We're determined to learn them in Canberra," the prime minister added.
"I accept that we need to learn from the difficulties that we've had, but in the end, government is not a popularity contest, it is a competence contest."
Coalition MPs described the result as catastrophic for Mr Abbott.
Liberal MP Jane Prentice told ABC News the party "can't continue as we are".
Queensland's Labor Party leader Annastacia Palaszczuk said: "It's just been absolutely amazing, the support right across the length and breadth of Queensland, it is extremely humbling and we are going to restore good governing to this state."
The LNP's defeat is being blamed on unpopular privatisation policies and public sector cuts.
But Mr Abbott's personal popularity has also plummeted in recent months, most recently because of his decision to award a knighthood to Prince Philip, the Queen's husband.
Labor is expected to have at least 44 seats in the 89-seat assembly, with the LNP set to hold on to at least 33.
"My political career is over, " Mr Newman said as he accepted defeat in his Ashgrove constituency.
Mr Newman has not yet conceded the overall result, as nine seats are still undetermined.
The LNP made history in 2012, winning 78 seats and the state's largest ever majority in an election.