Profile: Australian Foreign Minister Julie Bishop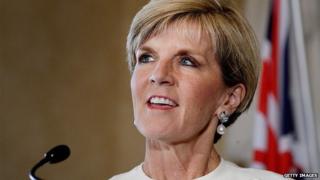 Australia's Minister for Foreign Affairs Julie Bishop is seen by many as having delivered a solid performance on the international stage since taking the role in 2013, raising Australia's global profile.
For months the only woman in Prime Minister Tony Abbott's cabinet, she was prominent in Australia's handling of the disappearance of Malaysia Airlines flight MH370 and the downing of MH17.
After a series of missteps by Mr Abbott, Ms Bishop is seen by some as a contender to replace him.
"She's a good public performer. And she can calm things down where Mr Abbott would inflame situations," says Rodney Tiffen from the Government and International Relations department at the University of Sydney.
"It's just her demeanour, partly just being foreign minister and having to be diplomatic."
However, there are others who feel she is not experienced enough or popular enough with the electorate for the top job.
Early fumbles
Born in 1956 in the Adelaide Hills, her family home was an apple and cherry orchard. She studied law at the University of Adelaide.
By the age of 30 she had moved to Perth and was an established lawyer. She became managing partner in 1994 at the law firm Clayton Utz.
Four years later she became the member of parliament for Curtin in Western Australia which took her to Canberra.
She was made minister of ageing in 2003 in Prime Minister John Howard's government and had the education portfolio for nearly two years.
But it was while in opposition - after the 2007 federal election that brought Kevin Rudd and the Labor party to power - that she stumbled, experts say.
During a TV interview while she was shadow treasurer she stumbled over the level of the Reserve Bank cash rate.
She was also accused of plagiarising the Wall Street Journal in a speech to parliament. She quit four months after accepting the post.
She later served as shadow minister of foreign affairs and trade.
'Sure grip'
But her career experienced a major boost when she became foreign minister in the Abbott cabinet in 2013.
She was lauded for her handling of the disappearance of flight MH370, for which Australia continues to lead the search.
"She seems to tread the bilateral waters really carefully, more carefully than others... and is adept at managing bilateral relations," says Jill Sheppard from the College of Arts and Social Sciences at the Australian National University (ANU).
Then, when flight MH17 was shot down over Ukraine in July killing all on board including 38 Australians, she was a strong voice demanding action, including asking Russian President Vladimir Putin for access to the crash site.
"She's been seen as one of the few [ministers] that's done a good job," says Damon Alexander, from the School of Government at the University of Melbourne.
"Australians are very competitive on the international stage, they want to be seen as well-represented."
The foreign portfolio has also kept Ms Bishop away from the domestic issues where others in Mr Abbott's cabinet have blundered.
"In government, the learning curve has inevitably been extremely steep but, unlike some of her colleagues, [Ms] Bishop has so far climbed it with a mostly sure grip," wrote Michelle Grattan, a highly respected veteran political journalist and academic, in The Conversation in October 2014.
'Steely-eyed determination'
Ms Bishop is currently Australia's most senior female politician. But no woman has ever led the Liberal Party, and Mr Abbott's government in particular has faced criticism for a lack of female representation.
However, gender is not something Ms Bishop herself has focussed on in her public persona, saying she does not describe herself as a feminist.
"A lot of people in the Liberal Party would not meditate on [Ms] Bishop's gender because she hasn't used it for better or worse," says Jill Sheppard from the ANU. "She just downplays it."
"But she combines femininity with a steely-eyed determination to succeed that doesn't allow for consideration of her gender."