Australia PM's deputy Julie Bishop denies Abbott challenge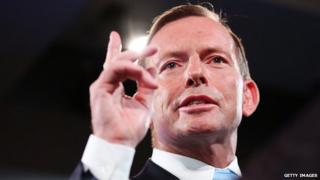 Australian Foreign Minister Julie Bishop has told the cabinet she is not seeking to challenge Prime Minister Tony Abbott for the leadership.
Mr Abbott had earlier refused to say whether he had asked Ms Bishop not to oppose him in a possible contest.
The PM is facing a popularity slump and his Liberal-National coalition suffered a shock defeat in Queensland's state elections at the weekend.
He has insisted the government must get "back to work".
Sky News in Australia reported earlier that Mr Abbott had unsuccessfully sought confirmation from Ms Bishop she would not mount a leadership bid against him.
When asked by reporters whether such a conversation had happened, Mr Abbott said he was not going to "play these insider games" and that the public was not interested.
He said he was not prepared to hold a leadership ballot, and insisted he still had Ms Bishop's support and that of backbenchers.
Ms Bishop, who is deputy leader of Mr Abbott's Liberal Party, later released a statement saying: "I am not campaigning for the job of prime minister, I am not ringing the backbench asking for support."
"I am not counting any numbers, I will not challenge the leader."
Her comments did not, however, rule her out of a contest if it is called by another MP.
Parental leave scrapped
Mr Abbott's approval ratings have fallen below 30% this week, partly in response to his decision to award a knighthood to Queen Elizabeth's husband Prince Philip.
He was seen as a key factor in the crushing defeat of the Liberal Party in Queensland's elections on Saturday.
On Monday, he confirmed the scrapping of one of his signature policies - a paid parental leave scheme.
He said it was "off the table" as the country currently could not afford it.
Communications Minister Malcolm Turnbull has also been suggested as a possible rival to Mr Abbott in recent weeks, along with Social Services Minister Scott Morrison.