Australia Abbott: Prime Minister faces early leadership vote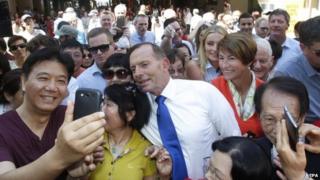 Australia's Prime Minister Tony Abbott is facing a party confidence vote on his leadership, over concerns at his slumping popularity.
The vote was to be held on Tuesday, but Mr Abbott brought the Liberal Party ballot forward a day.
"The last thing Australia needs right now is instability and uncertainty," he said.
No-one has directly challenged his leadership, but the vote was called by one of his own MPs.
Mr Abbott has faced criticism in recent weeks for giving an Australian knighthood Queen Elizabeth's husband Prince Philip.
His party also lost recent elections in Queensland, with some voters believing the prime minister had failed to make good on his election promises.
During the secret ballot, Liberal MPs will vote on whether to declare the leadership and deputy leadership positions in their party vacant. If the positions are declared vacant, the party will hold a leadership vote.
While no party members have yet raised a direct challenge to Mr Abbott, commentators say Communications Minister Malcolm Turnbull is seen as a likely contender for leader if Mr Abbott loses the confidence vote.
"If for whatever reason the leadership of a political party is vacant, then anyone - any member of the party - can stand... without any disloyalty to the person whose leadership has been declared vacant," Mr Turnbull told reporters on Sunday.
Mr Turnbull led the Liberal Party when it was in opposition, but later lost the leadership to Mr Abbott by one vote.
---
Analysis: Jon Donnison, BBC News, Sydney
Tony Abbott came to power just 17 months ago with an air of confidence and a message that Australia was back in business. He now risks becoming the country's shortest serving prime minister in almost half a century.
Australian politics can be a ruthless business. Mr Abbott was elected largely due to the infighting in the previous Labor government which saw the leadership of the country switch back and forth between Kevin Rudd and Julia Gillard. Tony Abbott now finds his own party plagued with similar internal squabbles.
Mr Abbott has struggled to get much of his conservative agenda off the ground and the economy is beginning to falter. But bizarrely it could prove to be his decision to knight Prince Philip that brings him down.
That decision is widely perceived as being the straw that broke the camel's back for many of the prime minister's one-time supporters. The move was almost universally criticised and led to accusations Mr Abbott was hopelessly out of touch with the mood of both his party and the public.
Why are Australian politics so stormy?
---
Foreign Minister and deputy party leader Julie Bishop has also been spoken of as a possible successor to Mr Abbott.
She said last week she would vote against the confidence motion.
But she similarly has not ruled herself out of the running if the motion passes and goes to a leadership vote.
The prime minister took office in 2013. He was immediately criticised for slashing spending in areas including universities, and his approval ratings have since plummeted.
Speaking to broadcaster ABC on Sunday, Mr Abbott said his government would "learn from this experience" if he survived the leadership vote.
"It's a pretty chastening experience to have a spill motion [confidence vote] moved on you after just 16 months in government," he said.
His government would "be different and better" this year if it held onto power, he said.