Sydney siege: Former hostages recount cafe ordeal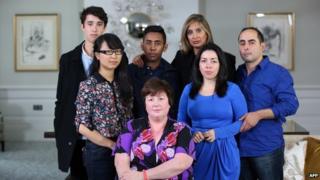 Survivors of December's Sydney cafe siege have been giving accounts to rival TV stations of their ordeals during the 17-hour stand-off.
Cafe employees Jarrod Morton-Hoffman and Joel Herat described their plans to stab the gunman in the jugular.
Another hostage described being forced to hold signs on behalf of the gunman in the cafe window.
Two of the 18 hostages were killed along with gunman Man Haron Monis when police stormed the Lindt cafe.
Last month a coroner's inquest heard that one hostage was shot dead by Monis and another was killed by police bullet fragments that ricocheted off hard surfaces.
The Nine Network and Seven News both aired Sunday evening programmes on the siege.
Mr Morton-Hoffman told Nine Network television he decided not to attack Monis, because such an effort would endanger the other hostages.
"We are so close we could do this but you know someone would need to jump, hold his arms down and then I would stab him in the jugular. But he had his gun, he had it on his knee and I could see that it was pointed directly at [hostage] Julie Taylor's back," he said.
Meanwhile Seven News carried an interview with former hostage Marcia Mikhael, who complained about the police handling of the siege.
Ms Mikhael described "losing it" with police negotiators as she attempted to relay Monis' requests at gunpoint. She was told that the "prime minister is a very busy man" and "couldn't come to the phone".
"I couldn't believe it. I was in disbelief," she said. "It was then that I knew that there was not going to be any negotiation and we were just left there. No-one was coming for us."
Pregnant worker
Seven's programme showed new footage shot from inside the network's Martin Place office, opposite the Lindt building.
It is reported to have paid a substantial sum of money for its interviews with Ms Mikhael and another survivor, John O'Brien.
The Nine Network's 60 Minutes programme was broadcast at the same time and featured interviews with seven hostages. Most of them were also reported to have been paid.
Its interviewees included pregnant cafe worker Harriette Denny.
She described her preparations for being shot in the back in a mass execution inside the cafe.
"I thought I was gone... And I knew my family would be watching," she said.
She said she did not reveal she was pregnant as the gunman rounded up her co-workers and customers, because she wanted her family to know first.
A review is now underway into the background and security checks on Monis - an Iranian who first came to Australia as a refugee in 1996.
He had a history of religiously-motivated activism and called himself a cleric, but officials have said there is as yet no evidence his actions were linked to international Islamist militant networks.
He was on bail after being charged with dozens of sexual assault charges and with being an accessory to the murder of his ex-wife, who was stabbed to death and set alight.
---
How the 17-hour Sydney siege unfolded
1. At 09:45 on Monday local time (22:45 GMT Sunday) police are called to the Lindt Chocolate Cafe in Sydney following reports of an armed robbery. It soon emerges a gunman is holding a number of people hostage.
2. Between 16:00-17:00, three men, then two women, sprint to safety from the cafe's side door - a fire exit.
3. Just after 02:00 on Tuesday, a loud bang is heard from the cafe and special operations officers advance towards the side door.
4. More hostages escape, running to safety on Elizabeth Street.
5. Moments later, commandos storm the cafe via a number of entrances. The remaining hostages escape.
6. Police officially confirm the end of the siege at 02:45 local time. They later report the deaths of three people, including the gunman.
The victims: Katrina Dawson and Tori Johnson
---
H