Australia vote: No ringing endorsement for Abbott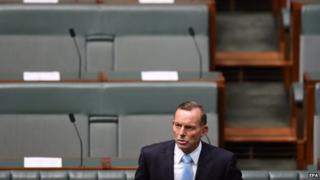 Following intense lobbying, Australian Prime Minister Tony Abbott has survived a move on his leadership. But questions remain about his longer-term security as leader of the Liberal Party, says Dr Zareh Ghazarian of Monash University in Melbourne.
When Mr Abbot became prime minister after the 2013 general election, he promised to provide stable government. This was in contrast to the Labor Party that had changed leader three times in three years. Now, the Liberal Party has found itself in a similar leadership quagmire.
Critics inside the party have argued the prime minister's leadership style has not worked. His failure to consult and an over-reliance on making "captain's calls" have fuelled discontent, especially among backbenchers who have felt locked out of the government's decision-making processes.
The government has struggled to attract support from the community for the past year, but it was not all Mr Abbott's fault. The inaugural budget delivered in May 2014 was geared towards reducing government spending while navigating a course towards budget surpluses. But it was poorly received by the electorate.
A controversial plan to charge a A$7 (£3.7; $5.70) fee to see a general practitioner, higher university fees and a small increase in an existing petrol tax were among the more unpopular budget measures.
The government also appeared to fail to explain why it had made some of its tough budget decisions and then failed to negotiate many of the measures through a hostile senate.
It back-flipped on some major promises, putting the prime minister's trustworthiness in doubt. For example, when he was in opposition, Mr Abbott promised he would not cut funding to the state broadcaster, the Australian Broadcasting Corporation (ABC). Then, in its first year, the government did exactly that.
It was at the helm when General Motors, Ford and Toyota announced they would close their auto-assembly plants and it refused to extend support to the car industry, which employed thousands of people.
'Lurking' rival
Unlike the Labor Party, which has now adopted a UK model of ordinary members electing the party leader, the Liberal Party only allows its MPs to hire or fire the leader.
Monday's result, which had 39 members vote for a leadership spill versus 61 members voting against, is not a ringing endorsement of Mr Abbott's performance.
Recognising the level of concern in his party, Mr Abbott has in recent weeks recalibrated his leadership style, ditching his signature paid-parental leave scheme as a clear signal he was willing to change. This approach may have been enough to keep wavering MPs onside but the question is how long that support will last.
Neither the government nor the prime minister are popular with the public. A string of polls in recent months has shown that the government stands to lose dozens of seats at the next election. Ultimately, Mr Abbott's future as leader will rest on these polls.
If they do not improve, wavering MPs will join his opponents and the party will once again agitate for a new leader.
It's not too late for Mr Abbott. The party has put him on notice and he can still turn things around. A greater emphasis on consulting his colleagues and communicating clearly to the public will go a long way.
But he will be only too aware of a potential challenger, in the form of Communications Minister Malcolm Turnbull, lurking in the shadows.
Mr Turnbull, a former leader of the party and a man popular with the public - both Liberal and Labor supporters - may one day be a force to be reckoned with but he has yet to announce his intentions.
Zareh Ghazarian is a political scientist at Monash University's School of Social Sciences and co-author of Australian Politics for Dummies.