Australian adventurer faces last leg of epic journey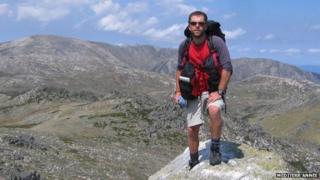 Australian adventurer and charity fund raiser Huw Kingston faces one more milestone in his bid to circumnavigate the Mediterranean, traversing 14,000km (8,700 miles) by human power.
He is now in Tunisia, training to row from there to Turkey.
It is a distance of 2,000km (1,200 miles) - passing through Malta and Cyprus - and could take up to 50 days.
Mr Kingston hopes to arrive in time for the Anzac Centenary on 25 April and raise money for Save the Children.
The date marks the ill-fated landing of the Australian and New Zealand Army Corps at Gallipoli in Turkey in 1915.
Mr Kingston - born in the UK but a long term resident of Australia - has so far paddled the Corinth Canal, trekked the full length of the European Alps - including an ascent of Mont Blanc - as part of his Mediterr Annee adventure which has also seen him cross the Straits of Gibraltar and cycle 1,500km in less than two weeks through Algeria.
Joining him to share the rowing will be Slovenian adventurer Marin Medak - who crossed the Atlantic three years ago.
Mr Medac says that he is expecting equally harsh conditions on the Mediterranean.
"The Mediterranean in winter is subject to very sudden and violent changes in weather. Winds of 100km/h with large, steep waves are not uncommon at this time of year," he said.
Mr Kingston took the 11th-hour decision to row to Turkey because that way he and Mr Medak will bypass conflict-hit countries such as Libya, Lebanon and Syria.
"After over nine months of looking forward on foot, bike and kayak, it will be strange to face backwards in a rowboat," Mr Kingston said.
After he has finished rowing. Mr Kingston will return to a sea kayak for the final 1,000km stage of his expedition - paddling back into Anzac Cove, Gallipoli, Turkey exactly one year after he set off.
---
Huw Kingston's route so far
Last April he left Anzac Cove and Turkey by sea kayak and spent three months paddling 2,500km along the coasts of Greece, Albania, Montenegro, Bosnia and Croatia.
Next he completed a 100-day, 1,500km trek following the full length of the European Alps in its arc from Slovenia through Italy, Switzerland, France and across the Alps to arrive in Monaco on the Mediterranean Sea in October
As winter approached, he mountain-biked more than 2,000km through Mediterranean France and the coastal ranges of Spain
The last 300km of Spain saw him climb back into the sea kayak to paddle down to the British enclave of Gibraltar, at the "mouth" of the Mediterranean
He crossed the narrow Straits of Gibraltar, separating Europe from Africa, by kayak and also continued through Morocco, Algeria and Tunisia by bike - some 2,500km
---