Australia 'failing to end indigenous disadvantage' says PM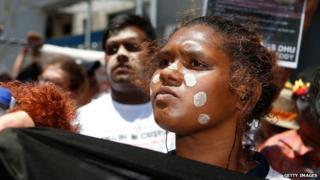 Australian Prime Minister Tony Abbott has said progress on improving the lives of indigenous Australians is "profoundly disappointing".
"We are not on track to meet most of the targets," he said, in a speech to parliament launching the seventh annual "Closing the Gap" report on the issue.
Mr Abbott said "Indigenous disadvantage" was a "challenge beyond partisan politics".
But the opposition said funding cuts had worsened the divide.
Indigenous Australians - Aboriginal and Torres Straits Islanders - represent about 2.5% of the population of 24 million.
Generations of discrimination and disadvantage have left them with poor health and low levels of education and employment.
The Closing the Gap steering committee was set up in 2008 and reports annually to parliament on progress.
Mr Abbott said this year's report showed that while there had been some improvements in education and health, there was "entrenched disadvantage".
"Despite the concerted efforts of successive governments since the first report, we are not on track to achieve most of the targets," he said.
"We must strive and strive again to ensure that the first Australians never again feel like outcasts in their own country."
Labor leader Bill Shorten said the move to reduce the budget for indigenous people by A$500m ($388m;£198m) had affected essential services and preventative health programmes.
"Right now, a host of vital organisations don't know whether their funding will be continued or withdrawn," he said, including shelters for people fleeing domestic violence and legal services.
"When having a lawyer can determine whether a first-time offender gets a second chance or a prison sentence, these cuts will rob indigenous Australians of legal aid," he said.
Several members of the governing coalition walked out of in protest, with one MP accusing Mr Shorten of a party political attack during what should have been a bi-partisan debate.
Latest figures show that life expectancy rates of indigenous people have shown little improvement over the last year, while efforts to halve the reading and numeracy gap for indigenous students have also fallen below target.
The government argues that it is working hard to make life better for indigenous people, citing figures that suggest that indigenous students are staying longer in education and efforts to prevent infant deaths are working.
Mr Abbott's adviser on Indigenous issues and chair of the Closing the Gap committee, Warren Mundine, said that Australia was "going backwards in a number of very important areas".
"We have to turn that around now," he was quoted by ABC as saying.
In 2010, the government formed an expert panel to examine constitutional recognition of Aboriginal and Torres Strait Islander peoples.
Unlike in other nations settled by Europeans, such as Canada and New Zealand, Australia's constitution does not mention indigenous people.
Mr Abbott has vowed to "sweat blood" to change this, saying that although he wants a referendum in 2017 he would not rush with the date until he was confident it would succeed.
Indigenous rights referendum:
To be passed, the proposal must be backed by a majority of people in a majority of Australia's six states
There is currently at least 70% support for constitutional recognition, according to opinion polls
Indigenous leaders describe it as "once in a generation opportunity"
A sticking point is whether the constitution should include a broad prohibition on racial discrimination