Australia to restrict foreign farmland investment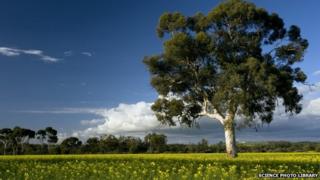 Australia is to make it harder for farmland to be sold to foreigners because of worries that it is losing control of food security, PM Tony Abbott has announced.
From the beginning of next month foreign buyers of agricultural land over A$15m ($11.67m;£7.65m) will be subject to regulatory approval.
Up until now approval was only required for land worth more than A$240m.
Mr Abbott said that foreign investment must be in the national interest.
"We do want foreign investment but it's got to be the right investment ... that serves our purposes. It needs to be transparent," he said.
"These measures are a significant step in protecting Australia's national interests and in giving the community greater confidence in our foreign investment regime."
Foreign ownership is a controversial issue in Australia, particularly in rural farming constituencies.
About 90% of agricultural land in Australia is fully owned by Australians, the Bureau of Statistics said last June, but the farming community has questioned that figure.
Mr Abbott said that tax authorities would conduct a review later this year on all land ownership to provide up to date details.